13 hour Burn at Storehouse, PE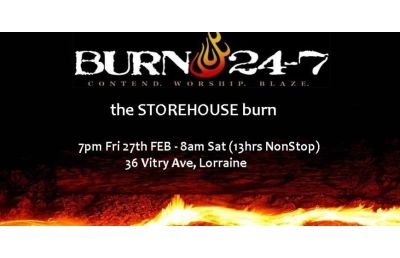 Red hot worshipers are invited to be a part of 13 hours of nonstop worship at BURN this Friday (February 27, 2015) starting at 19h00 at The Storehouse Church at 36 Vitry Ave, Lorraine, Port Elizabeth. 
"Unified worship attracts Gods heart, ultimately Jesus is returning for ONE Bride, " says Pete Gooch, coordinator of Burn 24/7 PE.
Pete continues: "I truly believe BURN 247 galvanizes us as the body of Christ around our city. We are one big Family — PE let's come together to love our Father.
"BURN often tests our hearts motives – are we worshiping Him alone? Or are we waiting for our favourite song?  Do we need the words on the screen or are we giving our heart song to God?
"BURN burns out a lot of the secular influences on worship music industry, it tests heart motives, it's about bringing a sacrifice at 3am to ONE Worthy of it All."
"I will not enter my house or get into my bed, I will not give sleep to my eyes or slumber to my eyelids, until I find a place for the LORD, a dwelling place for the Mighty One of Jacob."  — Psalms 132:3-5
More from Pete: "Since Storehouse is located in a residential area, it is the organisers' hope to ensure we create a space amongst worship for prophetic song, waiting on Him, freedom to sing over our city, scripture citing and declaring life where we see decay in our city.
"Did you know King David had 33 years or nonstop worship during his reign? When he was told Solomon would build the temple. He placed the arc in a tabernacle / Tent and had nonstop worship with thousands of musicians on duty! 
"How desperate are you for God to invade our City?  Come be a part of fulfilling the scripture – Amos 9:11 says: "In the last days I will raise up again the tabernacle (tent) of David, that is fallen." 
For more information about the BURN from 7pm Friday to 8am Saturday please check out https://www.facebook.com/events/1588134818086733/
PLEASE SCROLL DOWN TO MAKE/VIEW COMMENTS
ADVERTISEMENTS:
---
COMMENTING GUIDELINES:
You are welcome to make comments that add value to the article above and to engage in thoughtful, constructive discussion with fellow readers. Comments that contain vulgar language will be removed. Hostile, demeaning, disrespectful, propagandistic comments may also be moved. This is a Christian website and if you wish to vent against Christian beliefs you have probably come to the wrong place and your comments may be removed. Ongoing debates and repetitiveness will not be tolerated.