24 hour burns in PE and Cape Town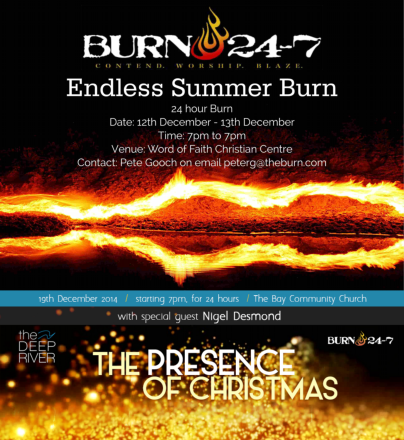 Fiery worshipers in Port Elizabeth and Cape Town will unite to honour God with all their hearts in 24 hour, citywide worship events over the next two weekends. Everybody is welcome and entrance is free.
The Endless Summer Burn will take place from 7pm on Friday, December 12 to 7pm on Saturday, December 13 at Word of Faith Christian Centre on the corner of William Moffett Expressway and Lily Street, Mangold Park, Port Elizabeth. More information is available from Pete Gooch at peterg@theburn.com.
Pete, who is passionate about breaking down dividing walls through worship shares a statement to challenge hearts at this time: "The greatest challenge to see who's kingdom you are building, is your value and sacrifice to be part of the unity of His Bride.. "
He also encourages believers to view the following video clip which has something profound to say about Truth
In Cape Town, The Deep River movement and Burn 24/7 are combining to host The Presence of Christmas, from 7pm on Friday, December 19 to Saturday, December 20 at the Bay Community Church, Muizenburg, Cape Town. Pastor Nigel Desmond who has a heart for revival, will be a special guest at the burn.
Burn 24/7 Convenor Sheldon Kidwell says: "This is not just another event to close 2014 off. This is a time to honour, with reverence, the almighty God we serve as one voice over our city! In laying our lives down as living sacrifices, we honour the sacred moments of His presence knowing that as we worship, His governance is established!! Cape Town needs a move of God!"
Useful links:
PE —  http://www.facebook.com/groups/burn247pe/
Cape Town — www.burn24-7.com
https://www.facebook.com/groups/burncapetown/
https://twitter.com/#!/BURN247CapeTown
PLEASE SCROLL DOWN TO MAKE/VIEW COMMENTS
ADVERTISEMENTS:
---
COMMENTING GUIDELINES:
You are welcome to make comments that add value to the article above and to engage in thoughtful, constructive discussion with fellow readers. Comments that contain vulgar language will be removed. Hostile, demeaning, disrespectful, propagandistic comments may also be moved. This is a Christian website and if you wish to vent against Christian beliefs you have probably come to the wrong place and your comments may be removed. Ongoing debates and repetitiveness will not be tolerated.