3 inspiring Stormie books in 1!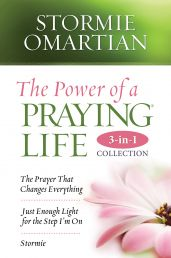 Book Review by Val Viljoen
THE POWER OF A PRAYING LIFE by Stormie Omartian
The Power of a Praying Life is actually a collection of three of best-selling author Stormie Omartian's most inspiring books.
Included in the collection is the book Stormie, an autographical account of a childhood marred by abuse by a mentally ill mother, and Stormie's attempts as a young adult to dull the resultant emotional pain with drink, drugs, destructive relationships and also the occult.
At the age of 28 and on the brink of suicide, she was introduced by a Christian friend to a pastor who led her into a life-transforming relationship with Jesus. As her story continues, she tells of a time when deliverance led to immediate lifting of crushing depression, but also of other deep healings which came about as a result of journeying with a loving God.
It is against this background of her own struggles and triumphs that Stormie's teachings on prayer bring wisdom and comfort to her readers.
The Prayer that changes Everything is a two part teaching on the importance of praise and worship in the life of a believer.
Fifteen Reasons to Praise God Now focuses on knowing God better through His praiseworthy attributes, while Fifteen Times When Praise is Crucial teaches on the importance of turning to praise in times of need. The structure of every chapter is immensely practical – a teaching of a length suitable for a daily reading, a prayer, a section of relevant scriptures and further bible references with questions to ponder.
This basic format of teaching, a prayer, and bible verses for meditation in each chapter is also followed in the third book of the collection. In Just Enough Light for the Step I'm On, the reader is encouraged to trust God for daily guidance and to know the comfort and confidence of a life lived in this way.
PLEASE SCROLL DOWN TO MAKE/VIEW COMMENTS
ADVERTISEMENTS:
---
COMMENTING GUIDELINES:
You are welcome to make comments that add value to the article above and to engage in thoughtful, constructive discussion with fellow readers. Comments that contain vulgar language will be removed. Hostile, demeaning, disrespectful, propagandistic comments may also be moved. This is a Christian website and if you wish to vent against Christian beliefs you have probably come to the wrong place and your comments may be removed. Ongoing debates and repetitiveness will not be tolerated.