A great add to your Christmas collection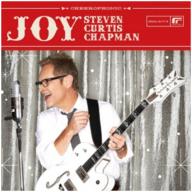 Music Review by Shelley Wasserman
JOY – Steven Curtis Chapman
Distributed by Christian Art Media
Tracklisting:
Joy to the World
Christmas Time Again
Christmas in Kentucky
Do You Hear What I Hear
Christmas Kiss
Let It Snow
Christmas Time Is Here
What Child is This?
In the Bleak Midwinter
Christmas Card
We Three Kings
I Am Joseph (God is With Us)
Happy New Year
This is Chapman's third Christmas album and it lives up to its name being uniquely written and musically arranged.  We are treated to some of the familiar carols, but there are few originals in the mix like 'Christmas in Kentucky', 'Christmas Time Again' and 'Christmas Kiss'.  Chapman has had a long music career and is still pulling out surprises with new sounds.  The album has a general jazz-acoustic sound, with some more upbeat and lively songs as well as the melancholic and solemn.  The style he has used suits his voice nicely.
A great add to your Christmas collection.
http://www.myspace.com/stevencurtischapman/music/albums/joy-18739460
PLEASE SCROLL DOWN TO MAKE/VIEW COMMENTS
ADVERTISEMENTS:
---
COMMENTING GUIDELINES:
You are welcome to make comments that add value to the article above and to engage in thoughtful, constructive discussion with fellow readers. Comments that contain vulgar language will be removed. Hostile, demeaning, disrespectful, propagandistic comments may also be moved. This is a Christian website and if you wish to vent against Christian beliefs you have probably come to the wrong place and your comments may be removed. Ongoing debates and repetitiveness will not be tolerated.