Africa set to be global centre of Christianity for next 50 years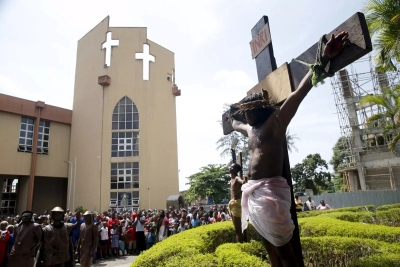 Originally published in Quartz Africa
There are already more Christians in Africa than any other continent — that's not going to change soon
By 2060 six of the countries with the top 10 largest Christian populations will be in Africa, up from three in 2015, according to a new Pew Research Center report. The projections are in line with the gradual shift that has increasingly seen Christian populations live outside the historical cultural centres of the religion.
The size of the Christian population in Nigeria alone — already the largest on the continent — is projected to double by 2060. In addition, Tanzania, Uganda and Kenya are projected to join the list of countries with the top 10 largest Christian populations, replacing Russia, Germany and China.
In total, the Christian population in the six African countries on the list alone will account for just under a quarter of the projected global Christian population of three billion people.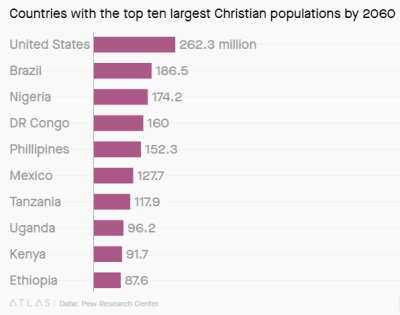 The upsurge in the African Christian population matches general population growth projections; while around 2.2 billion people could be added to the global population by 2050, more than half of that growth will occur in Africa.
Meanwhile, the decline of Christian population in Europe is especially notable in Britain where, last year, a survey showed "an unrelenting decline in Church of England and Church of Scotland" numbers. Only 14% of Britons identified as members of the Church of England—a record low. Similarly, Church of Scotland numbers dropped to 18% from 31% in 2002.
PLEASE SCROLL DOWN TO MAKE/VIEW COMMENTS
ADVERTISEMENTS:
---
COMMENTING GUIDELINES:
You are welcome to make comments that add value to the article above and to engage in thoughtful, constructive discussion with fellow readers. Comments that contain vulgar language will be removed. Hostile, demeaning, disrespectful, propagandistic comments may also be moved. This is a Christian website and if you wish to vent against Christian beliefs you have probably come to the wrong place and your comments may be removed. Ongoing debates and repetitiveness will not be tolerated.