Home � Africa News �
Bible Society office ransacked in Central African Republic
Bible Society office ransacked in Central African Republic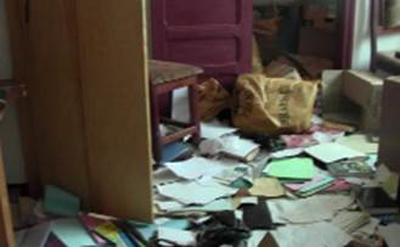 Originally published in Christianity Today
International health NGO Medecins sans Frontieres (Doctors without Borders) says the population of the Central African Republic has been "abandoned" to a humanitarian emergency "just when they most need help", and that the country's healthcare system has collapsed.
With most NGOs and aid agencies withdrawing to the capital Bangui, citing security concerns, MSF said in a July 9 report that the international community has failed to do enough to end the country's crisis.
Several Christian organisations in the country have attempted to provide help, even as some have been looted by rebels.
The republic was plunged into chaos after a rebel coalition called Séléka overthrew the regime of François Bozizé in March, forcing him to flee the country. Numerous acts of violence by the rebels have created a climate of tension and fear across the country. The International Federation for Human Rights reports that Séléka rebels have been accused of more than 400 killings since the rebel group came to power.
The coup followed years of unrest, leading to what the BBC characterised as a "crisis on top of a crisis". It reported that "hundreds of armed men who helped rebel President Michel Djotodia shoot his way to power in March, and who are mostly unpaid, now loot at will and shoot civilians who try to stop them".
Rebels have attacked and looted hospitals and MSF says the health system is so devastated it is a "phantom system that cannot be said to function".
When people try to escape armed attack and flee into the bush, they have no protection from mosquitoes. MSF reports 33 per cent more cases of malaria being reported this year than in the same period last year.
In the midst of the crisis, the Alliance of Evangelical Churches and the Catholic charity Saint Vincent de Paul, have held a donation event aimed at helping the victims of violence and looting.
The donations' initiative seeks to create a surge of solidarity towards the victims, Saint Vincent de Paul President Clemence Akondia told World Watch Monitor by telephone.
"We are sensitive to the suffering of the population", she said. "People of all ages were victims of looting and violence perpetrated by rebels. Some families have lost everything. We seek to help them regardless of their religious or ethnic affiliation".
The donations are mainly of clothes, household tools, beds, mattresses and cash, which Akondia said will allow providing emergency assistance to victims.
With help from local representatives, the Alliance of Evangelical Churches and Saint Vincent de Paul expect to gather statistics on damages inflicted by rebels across the country.
An operation of disarmament was launched by the authorities with the help of the regional military force, but violence has not completely ceased. On June 28, Séléka members attacked and ransacked two evangelical organisations in Bangui in broad daylight. The two organisations are the Bible Society in Central Africa — an inter-denominational institution specialising in distribution of Christian literature — and the Protestant Centre for Youth, which hosts an institute of theology, a number of private schools, and a conference room.
Twenty-nine 29 boxes of Bibles were torn and scattered on the ground, and four computers and printers and other furniture were taken. An estimated $2,000 in cash was stolen from the Bible Society office.
"This is an unfortunate event because this place belongs to God," the Bible Society's managing director, Pastor Gaston Kossingou, told Word Watch Monitor. "The looting committed by Séléka rebels defies God."
The looting occurred amid tension throughout Bangui that followed the death of a young student, reportedly killed by Séléka rebels in the Gobongo area. Under the pretext of taking out barriers erected by some youths on the highway, Séléka members attacked an undetermined number of properties, including the two religious institutions.
The looting of the Central Africa Bible Society also came on the eve of an official dedication ceremony of the translation of the Bible into Sangho, the main language in the Central African Republic. And it cast a shadow on reconciliation efforts begun a month ago by Christian and Muslim leaders who agreed to work together on solutions to the growing unrest.
Since then, reports say a relative calm has prevailed in Bangui, but the fear of new acts of violence remains real.
PLEASE SCROLL DOWN TO MAKE/VIEW COMMENTS
ADVERTISEMENTS:
---
COMMENTING GUIDELINES:
You are welcome to make comments that add value to the article above and to engage in thoughtful, constructive discussion with fellow readers. Comments that contain vulgar language will be removed. Hostile, demeaning, disrespectful, propagandistic comments may also be moved. This is a Christian website and if you wish to vent against Christian beliefs you have probably come to the wrong place and your comments may be removed. Ongoing debates and repetitiveness will not be tolerated.