Burn 24-7 in PE this weekend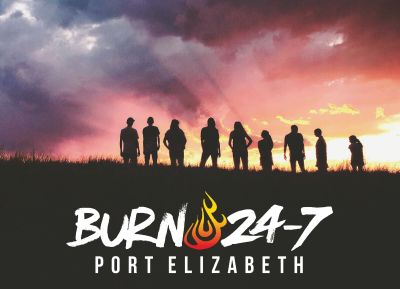 Port Elizabeth worshipers are invited to come to Fountain Vineyard Christian Fellowship, 22 Newcombe Avenue, Walmer Heights for the Burn 24-7 taking place there from Friday (June 2) at 7pm until 7pm on Saturday.
"We look forward to hosting this passion-filled event and we are expectant. There is an insatiable passion and hunger for God in our city and we cannot wait to have God show up this weekend. Make sure not to miss it. We will have the fire place burning, cappuccinos in our new coffee bar, pancakes and other goods for sale and more than enough space for prayer, worship and dancing!" says Kris van der Westhuizen of Fountain Vineyard.
"We feel so honored to be sharing in this event with over 10 churches from all around Port Elizabeth and we welcome some first-time Burn bands. Please be sure to join us and bring your friends and family." she says.
There will also be an opportunity to join an outreach to the city at 9am on Saturday. More info on the PE BURN 24-7 Facebook page.
PLEASE SCROLL DOWN TO MAKE/VIEW COMMENTS
ADVERTISEMENTS:
---
COMMENTING GUIDELINES:
You are welcome to make comments that add value to the article above and to engage in thoughtful, constructive discussion with fellow readers. Comments that contain vulgar language will be removed. Hostile, demeaning, disrespectful, propagandistic comments may also be moved. This is a Christian website and if you wish to vent against Christian beliefs you have probably come to the wrong place and your comments may be removed. Ongoing debates and repetitiveness will not be tolerated.