Christ Like Conference in Kimberley aimed at family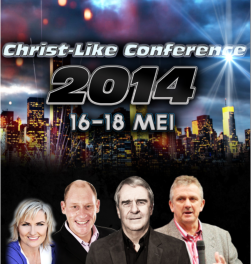 The whole family is invited to attend the 2014 Christ Like Conference at the Big Hole Convention Centre, Kimberley, from Friday, May 16 to Sunday, May 18.
Guest speakers at the conference are are Dirkie van der Spuy from Moreleta Park, Johnny Louw and Dawie Spies of Mighty Men Conferences and Manne van die Woord and Gretha Wiid with her dynamic teachings on marriage and family, say the organisers, AFM House of Restoration. Praise and worship will be led by the team from "LigWeg".
"We realised there was a need for a family conference as you usually only hear about men's conferences or women's conferences," they say.
The conference theme is "In His Presence".
During the conference a Kids Conference will be held to accommodate children aged from 3 to 9 years and there will be a baby room for the 0 to 2-year-olds. 
Registration details and programme times are available on the website: www.afmhouseofrestoration.co.za. The venue can accommodate 2 500 people and the organisers would like a full house.
PLEASE SCROLL DOWN TO MAKE/VIEW COMMENTS
ADVERTISEMENTS:
---
COMMENTING GUIDELINES:
You are welcome to make comments that add value to the article above and to engage in thoughtful, constructive discussion with fellow readers. Comments that contain vulgar language will be removed. Hostile, demeaning, disrespectful, propagandistic comments may also be moved. This is a Christian website and if you wish to vent against Christian beliefs you have probably come to the wrong place and your comments may be removed. Ongoing debates and repetitiveness will not be tolerated.