Some members of a team that have been involved in consultations relating to 10 points of Christian consensus. They are, from the left, Dr Ruben Richards, Dr Arno van Niekerk, Errol Naidoo and Advocate Alan Nelson.
A great awakening of God's people is taking place in South Africa, say a team of Christian leaders who have been working together on a strategy to "peacefully storm the elections to usher in a righteous government".
At the heart of their campaign are 10 "Christian Consensus" statements which they say represent what Christians want for SA and which have been endorsed by about two million believers over just a few months, and shared with political party leaders as the proposed basis of cooperation.
Several high-profile events aimed at raising awareness of the initiative and mobilising Christian voters, are lined up between now and Election Day, starting with a gathering of senior Christian leaders in Pretoria on Saturday to sign a declaration to officially make SA a Kingdom nation, says Dr Arno van Niekerk, one of the team members.
The righteous government election initiative is backed by a major prayer movement co-ordinated by Bible teacher Dr Arthur Frost, who told Gateway News that Christians responding to a campaign to pray blessings over towns and cities of SA have covered thousands of locations. An interactive map and table tracking progress in this campaign will be posted on the website www.greatawakeningsa.co.za, he said.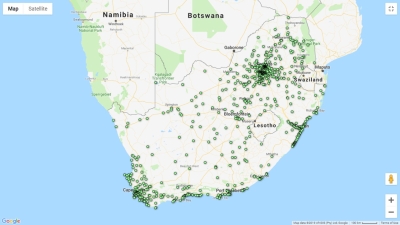 He said there were "thousands, if not hundreds of thousands of people", praying for the Christian leaders' declaration-signing event in Pretoria on Saturday. He said a call has been made for intercessors to gather at the venue at Doxa Deo Church in Brooklyn from 11.30am to pray for the event which starts at 1pm.
The election initiative began in late January when 200 Christian leaders were asked to list the top 10 values they would want to see implemented if a Christian government was elected. Most of the leaders identified the same values, which became the Christian Consensus that was shared with SA Christians and with political party leaders in meetings at Parliament and at Galagher Estate.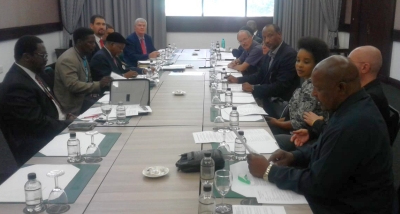 Every political party was invited to meet with the righteous government initiative team, provided that they were in agreement with the Christian Consensus points, said Van Niekerk, emphasising that the campaign was not about political parties but about uniting and activating the Church across every line of division.
"We have prayed at the It's Time and other events and we have sought the Lord's face and seen that He wants his people to put their faith into practical action," he said, referring to Isaiah 59:14 – 16 which speaks about a lack of justice and righteousness because there was no one to intervene.
"From my meetings with political leaders, I can tell you SA is ready for change. These leaders are listening to the voice of God's people expressed by the Christian Consensus and they are responding with commitments."
Party leaders who have met with the righteous government initiative team members include Dr Kenneth Meshoe (ACDP), Mmusi Maimane (DA), Mosiuoa Lekota (Cope), Dr Pieter Groenewald (FF), King Bryce Mthimkhulu (ARU), and a representative of IFP standing in for Mangosuthu Buthelezi. Dr Convy Baloyi (ACO) had hoped to attend one of the meetings but was unable to because of an urgent matter.
Van Niekerk said that in the event of an election victory, these parties were committed to putting a righteous president into office, appointing leaders who were accountable to voters, healing the nation and building a prosperous South Africa.
The election focus was just the beginning of the initiative, with the goal of electing a righteous government. Thereafter the focus would be on Christians taking hands to make South Africa a righteous nation, he said.
Referring to the events planned in the run-up to the election, he said: "We need to change the whole atmosphere in the nation with an awareness of God's presence, destiny and purposes so that drastic change comes on and after Election Day."
The event schedule is:
Saturday April 6: Christian leaders unite at Doxa Deo Church, Brooklyn, Pretoria at 1pm to sign a declaration to officially make SA a Kingdom nation. Among the leaders invited are Angus Buchan and Advocate Thuli Madonsela. All are welcome to attend.
Saturday April 20: A prayer meeting in Johannesburg at a venue to be confirmed, where political party leaders and other leaders will intercede for SA. The public event over the Easter weekend will not be a political gathering but strictly a prayer meeting.
Saturday April 27 (Freedom Day): Christians will be asked to wear white and take to the streets for #JesusMarches all over SA — big or small. The Christian awakening team are calling it "True Freedom Day" as they aim to bring a massive shift in the nation. A mass meeting will take place at Mount Zion, Germiston. Everyone is welcome.
Election Day: Christians are asked to wear white at the polls. "Seeing each other in the rows to vote, we'll pray together. A new nation is birthed (Isaiah 66:8)," say the initiative team.
More details about the righteous government initiative are available online at www.greatawakeningsa.co.za