Company of prophets meeting in Midrand on March 9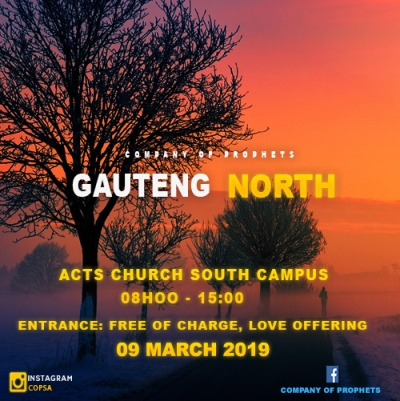 The North Gauteng Company of Prophets (COP) invites Christian prophets and prophetic people to join them for a time of pushing back darkness, upliftment, impartation, and teaching at their next conference at Acts Church South Campus, Midrand, on March 9.
At a time when so much exposure is being given to false prophets, why not gather with mature prophetic voices and benefit from the input of speakers Ken Fish, Andries van Heerden and Anita Giovannoni, say the COP.
Registration for the event, which runs from 8am to 3pm, is free and can be done online at: http://companyofprophetssa.co.za/calendar/
Watch conference promo:
PLEASE SCROLL DOWN TO MAKE/VIEW COMMENTS
ADVERTISEMENTS:
---
COMMENTING GUIDELINES:
You are welcome to make comments that add value to the article above and to engage in thoughtful, constructive discussion with fellow readers. Comments that contain vulgar language will be removed. Hostile, demeaning, disrespectful, propagandistic comments may also be moved. This is a Christian website and if you wish to vent against Christian beliefs you have probably come to the wrong place and your comments may be removed. Ongoing debates and repetitiveness will not be tolerated.