Election Day prayer event in Soweto on April 17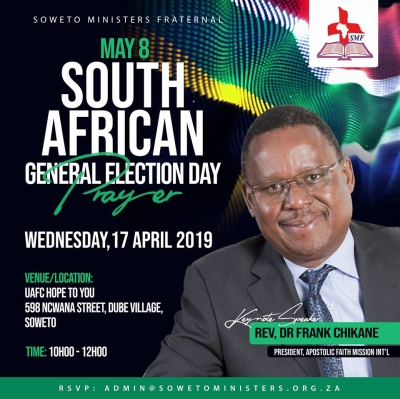 The Soweto Ministers Fraternal invites all South Africans to an election prayer day at UAFC HOPE to You in Dube, Soweto on Wednesday April 17.
Reverend Frank Chikane, president of the Apostolic Faith Mission International in SA is the keynote speaker at the event from 10am to 12pm ahead of the general elections on May 8.
Pastor Sipho Mahlangu, the president of the fraternal says: "We feel that we need to pray for the elections to go smoothly. We believe that through prayer things will go well."
In an invitation to the event the organisers pray: "We thank our Blessed Father God for our nation, the Republic of South Africa. Thank You, O Lord, for the privilege of our democratic form of government. Thank You for leading and guiding us as we elect our new National Assembly and Provincial Legislatures."
For more information contact The Soweto Ministers Fraternal by calling 087 943 8100, emailing info@sowetoministers.org.za/ or visit their website http://sowetoministers.org.za/.
PLEASE SCROLL DOWN TO MAKE/VIEW COMMENTS
ADVERTISEMENTS:
---
COMMENTING GUIDELINES:
You are welcome to make comments that add value to the article above and to engage in thoughtful, constructive discussion with fellow readers. Comments that contain vulgar language will be removed. Hostile, demeaning, disrespectful, propagandistic comments may also be moved. This is a Christian website and if you wish to vent against Christian beliefs you have probably come to the wrong place and your comments may be removed. Ongoing debates and repetitiveness will not be tolerated.