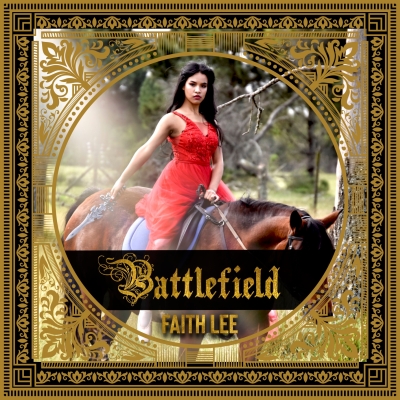 Recently featured as one of the Top 48 on KykNet's Maak My Famous, 23-year old Port Elizabeth singer, Faith Lee, is set to launch her much-awaited EP record, Battlefield, at Word of Faith Christian Centre on Sunday 16 June 16 at 7pm. Entrance to the event is free.
Battlefield comprises four tracks, all of them written by Faith.
"The theme of my album is based on the constant battles we face in life and how we are warriors, fighting in the battlefield of life," Faith said.
The winner of Fresh Factor Live 2018, Faith's vocal ability stood out among that of hundreds of contestants from Port Elizabeth. The talent competition was judged by Alison Gooch, the worship leader of PE Burn 247, Noelene Spinks, the 2017 Fresh Factor winner, and Manny Eagle, the Music and creative arts director of Word of Faith Christian Centre. Among Faith's prizes was a free recording of her EP record, which included a photo shoot and assistance with setting up her brand.
Listen to Battlefield promo:
Faith began singing when she was four years old and hasn't stopped since.
" I have always had a great love for the performing arts: music, dance and drama. Music has always made me feel complete and whole as a person. It fills the empty spaces that words cannot."
Bullied during her time at school, Faith found that singing boosted her confidence and helped her overcome her fears. Called stupid and ugly by her peers, Faith found comfort in Jesus and singing Gospel songs became a way to move past her pain. This is what led to the theme of her album.
"The music on my album is meant to create a story of fighting in this battle because we really are. Our warfare is not against flesh and blood, but against the powers of darkness in the spiritual realm. We always need to have our battle armour ready. The final message on the album is that the battle is the Lord's and the victory is ours."
Singers, bands, musicians and groups are competing again with the hope of being crowned this year's Fresh Factor Winner. Incredible cash prizes, giveaways and opportunities are up for grabs to further the passion and career of the winner! If you would like to book an audition for the competition in September, call 074 185 4636. For more information about Faith's upcoming EP and launch email us at info@wordoffaith.org.za or call the Word of Faith Christian Centre church offices on 041 399 4400. Alternatively, view the latest updates at www.freshfactorlive.co.za