Free Bible App installed on 30 million phones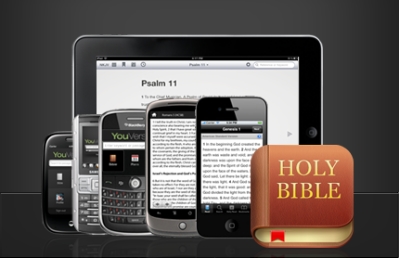 Originally published in Christian Post
The world's most popular Bible App, YouVersion, has reached another milestone – 30 million unique installs this week.  The free Bible App is now available in 45 languages and offers more than 190 BIble reading plans.
"It is very exciting to see what God is doing through YouVersion in a short period of time," said Pastor Bobby Gruenewald,  creator of YouVersion and Innovation Leader at LifeChurch.tv. "And this is only the beginning. We're committed to continuing to use the best of today's and tomorrow's technology to help the world fall in love with God's Word."
A team of developers at the church launched the app, which allows users to use their smartphones as a digital Bible, in 2008. Gruenewald was amed one of Fast Company's 100 Most Creative People in Business for his work in creating the app.
Craig Groeschel, lead pastor of LifeChurch, told congregants in a sermon earlier this year that he has received offers to monetize the smartphone app but turned them all down. He explained that since the first Bible he received was handed out for free by a Gideons evangelist on his college campus, he wanted to pay that gesture forward.
"My Bible is not for sale," said Groeschel.
PLEASE SCROLL DOWN TO MAKE/VIEW COMMENTS
ADVERTISEMENTS:
---
COMMENTING GUIDELINES:
You are welcome to make comments that add value to the article above and to engage in thoughtful, constructive discussion with fellow readers. Comments that contain vulgar language will be removed. Hostile, demeaning, disrespectful, propagandistic comments may also be moved. This is a Christian website and if you wish to vent against Christian beliefs you have probably come to the wrong place and your comments may be removed. Ongoing debates and repetitiveness will not be tolerated.