Free tickets on offer for Dewald Gouws concert in Cape Town on Saturday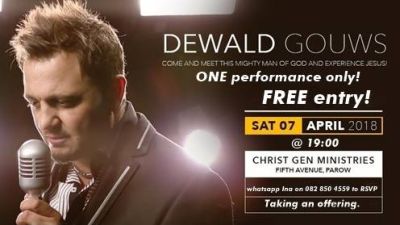 Christian music artist Dewald Gouws is performing at a free concert at ChristGen Church Parow (Opposite the Ajax Football Club in Parow) on Saturday April 7 at the end of a Cape Town tour to promote his new song But God.
You can secure your free seat by contacting Ina Murison-McGowan on 082 850 4559. making sure to WhatsApp her your name so that your place is saved. Tickets are strictly limited.
"This song [ But God ] really has put Dewald right up there among the very best Gospel artists, not just here in South Africa but in the world too," says Mighty Men Western Cape's Piperjames.
He says that during his Cape Town trip which has included visits to schools, radio stations and local Christian, Dewald has also tirelessly promoted the upcoming Mighty Men Western Cape Conference at Moreson Farm, Malmesbury from October 5 to 7.
PLEASE SCROLL DOWN TO MAKE/VIEW COMMENTS
ADVERTISEMENTS:
---
COMMENTING GUIDELINES:
You are welcome to make comments that add value to the article above and to engage in thoughtful, constructive discussion with fellow readers. Comments that contain vulgar language will be removed. Hostile, demeaning, disrespectful, propagandistic comments may also be moved. This is a Christian website and if you wish to vent against Christian beliefs you have probably come to the wrong place and your comments may be removed. Ongoing debates and repetitiveness will not be tolerated.