God 's answer for bad stewards: dispossession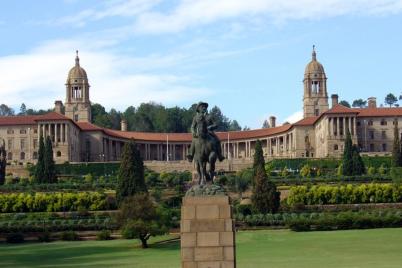 Pastor Bongani Mgayi reflects on the recurring pattern of bad stewardship of South Africa — and on God's response to successive governments that try to own His land rather than manage it for Him.
Humans are called to be stewards. They have a mandate from the Father to be guardians over His earth and those things which He has put under their care.
In Eden, the instruction to man was to, "dress [the garden] and to keep it" (Genesis 2: 15, KJV). Humans are to manage the land, resources, finances and property which belong to God.
For instance, adults have a mandate to raise their children to be Godly, productive and well-adjusted adults (cf. Proverbs 22: 6). Every generation has a responsibility to preserve values, teaching and structure for the next generation. Adults owe it to their children to keep an account of history and culture and to teach the next generation. The elders must recite the stories in the hearing of the youth; the senior leaders must pass on wisdom to young leaders. Parents must not trade their children off to Google, Wikipedia, media or chat rooms to shape them.
The home and family is a good place to commence this role of stewardship. However, the mandate also applies beyond the home.
Huge deposit left by our Father
South Africa is estimated to have R20 trillion worth of minerals that can be explored. This is a huge deposit left there by our Father. It is up to the stewards to "dress and keep" this deposit.
Can any individual, entrepreneur or company harvest from the land? Current political-economy models  put stewardship over the land in the hands of nation states. For instance, UN declarations accord the ownership of the land and resources to governments. Thus, this huge mineral deposit belongs to the South African government. As such, mining companies are subject to buying exploration rights and paying royalties.
But, what does the Bible say about resource and land ownership? Psalm 24: 1 says, "The earth is the LORD's, and everything in it. The world and all its people belong to him" (NLT). Psalm 115: 16 says, "The heavens belong to the LORD, but he has given the earth to all humanity." (NLT)
The above texts tell us that firstly the land and resources are God's; secondly, that he has given it to people.  But why do governments now own the rights to the resources and land? This is a very complex issue and the subject of philosophical debates. For the sake of this article, two answers may suffice.
Firstly, humans have put this on themselves by asking for rulers to rule over them. This is what democracy does, it supplies individuals with a government they want, that will take over the operation of their territory and will be given charge over the resources of that territory. Unfortunately, trusting in man always leads to disappointment. The Israelites found this out quickly, after they sought to have a king rule over them (cf. 1 Samuel 8:10-16; Nehemiah 9:36-37).
Secondly, individuals lose their stewardship as a result of their defiance against God. The lesson-rich Old Testament may portray God as a harsh and unfair Lord. Many people were driven from their land and often lost their inheritance. This is a lesson in history that the resources and land never belong to the people, they merely "dress and keep" it for God. If the individuals want to remain as stewards they must obey the Landlord or risk being driven from the land (Deuteronomy 18: 9-14).
The ANC government of South Africa is currently the steward of the land and resources, by virtue of a majority vote.
The apartheid government and White capitalists were the previous stewards, but because of their atrocities and greed, they lost this privilege. BEE, affirmative action and land redistribution are the consequences for being a bad steward. The previous business owners and farmers who had the resources in their hands did not do a good job; they mistreated workers and did not take care of the poor and so on.
The current Black government too will be displaced and another steward appointed. The same pattern is emerging in this government which was present in all previously displaced stewards. Throughout Bible history, on God's ordination, stewards have been dispossessed who were on the land but mismanaged resources and committed abominable acts. Homelessness, a failed health care system, poverty and the Marikana debacle are just a few of the repulsive testimonies against the current stewards.  The logic is simple. The cycle will continue.
Stewards must remember they do not own the land, the resources or those under their care. They are to "dress and keep it."
PLEASE SCROLL DOWN TO MAKE/VIEW COMMENTS
ADVERTISEMENTS:
---
COMMENTING GUIDELINES:
You are welcome to make comments that add value to the article above and to engage in thoughtful, constructive discussion with fellow readers. Comments that contain vulgar language will be removed. Hostile, demeaning, disrespectful, propagandistic comments may also be moved. This is a Christian website and if you wish to vent against Christian beliefs you have probably come to the wrong place and your comments may be removed. Ongoing debates and repetitiveness will not be tolerated.