Harvest Christian Church launches debut worship album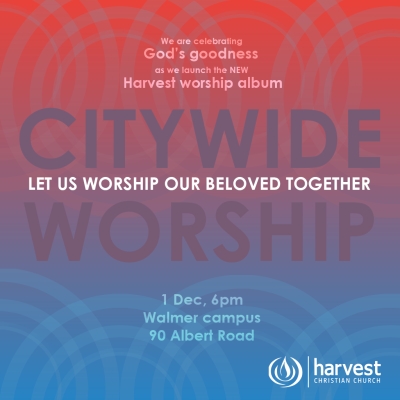 On Saturday December 1 Harvest Christian Church, Port Elizabeth, renowned for its worship ministry and musical heritage, will be launching its debut worship album.
The album is made up of original songs, all written, arranged, and played by Harvest church members.
The album title track is called Beloved, which is based on the scripture "I am my beloved's and my beloved is mine."  — Song of Solomons 6:3.
The album was recorded in PE at SABC Studios and produced in the UK by Henry Marsden, well-known international Christian record producer.
The album will be available for sale at Harvest Christian Church Walmer campus, as well as through iTunes and Googleplay.
As part of the celebration of the album release, Harvest will be hosting a citywide worship event where everyone is invited to join in to worship Jesus together and give thanks for God's goodness. This event will take place
at Harvest Walmer campus (Albert Rd Walmer) on Sat December from 6pm to 8pm.
".. to everyone who will listen to these tracks, we want you to know that throughout the rehearsals and the recording of these songs, we felt the continuous and tangible presence of our Father God's love. Our prayer is that as you listen to the music play, you too will experience His beloved embrace." — Dwayne & Lushe Greeff, Worship Pastors
PLEASE SCROLL DOWN TO MAKE/VIEW COMMENTS
ADVERTISEMENTS:
---
COMMENTING GUIDELINES:
You are welcome to make comments that add value to the article above and to engage in thoughtful, constructive discussion with fellow readers. Comments that contain vulgar language will be removed. Hostile, demeaning, disrespectful, propagandistic comments may also be moved. This is a Christian website and if you wish to vent against Christian beliefs you have probably come to the wrong place and your comments may be removed. Ongoing debates and repetitiveness will not be tolerated.