Invitation to Workers Day prayer gathering in Johannesburg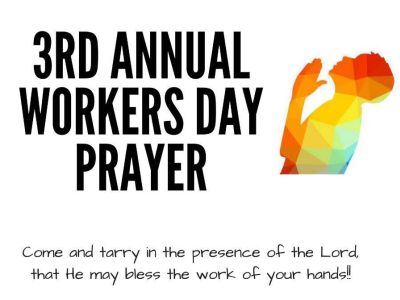 The Master is calling all those in business, the marketplace and society to come and spend a day in His presence, says Vuka Africa in an invitation to a Workers Day prayer gathering from 10am on Tuesday May 1 2018 at 19 Harley Street, Ferndale, Randburg, Johannesburg.
The invitation continues: "He wants to renew, recharge and revive you for the next phase He's taking us into as the workforce of South Africa and the nation.
"If you are reading this, we implore you to please spread the word and invite ALL those you know who are part of our workforce. Let them come to the feet of their Father.
"Pastor's, Apostles, Church Leaders etc. We humbly ask that you also extend this invitation to your congregation.
"Let us gather together with them to pray for them as they go into the spheres which they are called into."
More information is available by calling 060 421 4657
PLEASE SCROLL DOWN TO MAKE/VIEW COMMENTS
ADVERTISEMENTS:
---
COMMENTING GUIDELINES:
You are welcome to make comments that add value to the article above and to engage in thoughtful, constructive discussion with fellow readers. Comments that contain vulgar language will be removed. Hostile, demeaning, disrespectful, propagandistic comments may also be moved. This is a Christian website and if you wish to vent against Christian beliefs you have probably come to the wrong place and your comments may be removed. Ongoing debates and repetitiveness will not be tolerated.