Home � Africa News �
Kenyan Muslim sacrifices life to protect Christians during attack
Kenyan Muslim sacrifices life to protect Christians during attack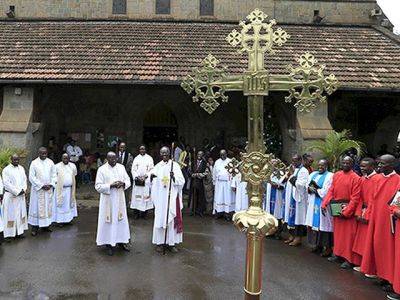 Originally published in CBN News
A Kenyan Muslim man is being called a hero after shielding a group of Christians who were recently ambushed by suspected al-Shabab jihadists.
During the December terror attack Salah Farah refused the terrorists' demands to identify Christians on the ambushed passenger bus. He instead risked his own life by shielding them from the attack.
Farah reportedly told the gunmen to kill all 62 bus passengers or flee. The gunmen panicked but did not leave before gravely wounding him. He died Monday after being airlifted to a Nairobi hospital to treat gunshot wounds to his arm and hip.
The Kenyan government saluted Farah, a teacher, as a true hero and beacon of hope.
Al-Shabab jihadists purposefully single out Christians as prime targets in their terror attacks. By not allowing the terrorists to target Christians on the passenger bus, Farah has become a symbol of unity.
Rev. Wellington Mutiso, a leader in the Baptist Convention of Kenya, said he "laid his life as a ransom for the Christians who would have been killed."
"This is a good gesture (for which) Christians will forever be grateful," Mutiso said.
Al Shabab's terror attacks in Kenya have intensified since 2011 after Kenyan soldiers entered Somalia to fight the jihadists.
Not all Muslims in the country support the jihadist group, as Farrah's actions demonstrate.
While in the hospital after the terror attack, he told journalists: "I do not know what got into me, but I knew these were bad people and had to be stopped."
PLEASE SCROLL DOWN TO MAKE/VIEW COMMENTS
ADVERTISEMENTS:
---
COMMENTING GUIDELINES:
You are welcome to make comments that add value to the article above and to engage in thoughtful, constructive discussion with fellow readers. Comments that contain vulgar language will be removed. Hostile, demeaning, disrespectful, propagandistic comments may also be moved. This is a Christian website and if you wish to vent against Christian beliefs you have probably come to the wrong place and your comments may be removed. Ongoing debates and repetitiveness will not be tolerated.