Kim Walker-Smith releases new song: 'Insatiable'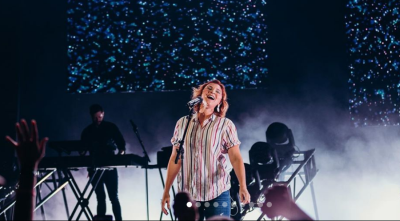 Originally published in chvnradio.com
The Jesus Culture artist releases a new praise anthem at the More Than A Moment Conference.
The new single from Walker-Smith debuted on Thursday evening last week.
The song, released through Jesus Culture, is about pursuing friendship and intimacy with God, and how God will not rest until He has all of us.
Walker-Smith says. "The lyrics speak to the deep love God has for us and the lengths He would go through to win our hearts. There is also a beautiful response in the lyrics that tells God that He can have it all. His love is an all-consuming fire, and He is worthy of our surrender."
PLEASE SCROLL DOWN TO MAKE/VIEW COMMENTS
ADVERTISEMENTS:
---
COMMENTING GUIDELINES:
You are welcome to make comments that add value to the article above and to engage in thoughtful, constructive discussion with fellow readers. Comments that contain vulgar language will be removed. Hostile, demeaning, disrespectful, propagandistic comments may also be moved. This is a Christian website and if you wish to vent against Christian beliefs you have probably come to the wrong place and your comments may be removed. Ongoing debates and repetitiveness will not be tolerated.