WATCH: 'Madiba Wethu' song released to highlight anti-gangsterism campaign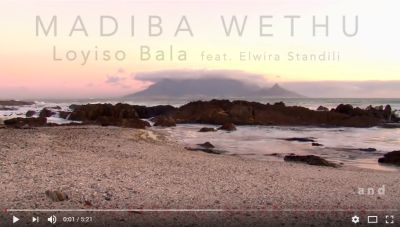 A music video featuring a tribute song about the late Nelson Mandela and sung by a group of 60 musicians headed by Loyiso Bala and Elwira Standili, was released yesterday in support of a campaign to fight gangsterism in the Cape Town area.
While the song, Madiba Wethu, is a tribute to Mandela who would have turned 100 yesterday, its main purpose is to support Join Bands, Not Gangs, a new NGO that is raising funds to give musical instruments to Cape Flats residents, said Karien de Waal, a Cape Town musician, Christian and Berklee College of Music graduate and Fender endorsee, who wrote and produced the song.
The Zulu lyrics were written by fellow Berklee graduate, Phakamani Pega.
Karien partnered with Julita Kok from Nuelight Productions on a 3-month journey of connecting musicians around the world to work on the song. The prestigious Berklee College of Music Indian Ensemble, the Cape Town Youth Philharmonic Orchestra and the Sekunjalo Delft Big Band, conducted by Brandon Phillips, a 15-piece South African choir and 5-piece rhythm section, all worked on the project for free.
The song was mixed by Los Angeles-based mixing engineer, Will Kennedy, who has mixed tracks for U2 and
One Republic. The mastering was done by Jett Galindo from The Bakery, LA. Her credits include mastering films like La-La Land and songs for Barbara Streisand and John Legend.
Karien said today that the Madiba Wethu song which they hope will go viral and attract visitors to the Join Bands, Not Gangs website, marks the launch of their campaign.
"We are also currently making a documentary, focusing on the Community of Scottsdene in Kraafontein. The community is riddled by gang violence and it's absolutely shocking. Between my first and second interviews in the area, which was 2 weeks apart, six people got murdered. It's a daily warzone. The community features in the music video."
PLEASE SCROLL DOWN TO MAKE/VIEW COMMENTS
ADVERTISEMENTS:
---
COMMENTING GUIDELINES:
You are welcome to make comments that add value to the article above and to engage in thoughtful, constructive discussion with fellow readers. Comments that contain vulgar language will be removed. Hostile, demeaning, disrespectful, propagandistic comments may also be moved. This is a Christian website and if you wish to vent against Christian beliefs you have probably come to the wrong place and your comments may be removed. Ongoing debates and repetitiveness will not be tolerated.