Movie Wise…MAY 1, 2014

A weekly column in which Pieter Pohl, founder and managing director of Innovation Films, sheds some light on the latest movies. Check in each week for reviews and previews of mainstream and Christian movies at the cinema, on TV or on DVD.

NOW SHOWING IN CINEMAS:
WARNING: Intense Action Violence & Foul Language
OFFICIAL WEBSITE: http://3daystokill.tumblr.com/
IN CINEMAS: FROM 1 MAY 2014
MOVIEGUIDE REVIEW: http://www.movieguide.org/reviews/3-days-to-kill.html
MovieGuide:
3 DAYS TO KILL stars Kevin Costner as CIA spy Ethan Renner. Ethan is chasing a dirty-nuke bomb smuggler named The Wolf and his evil sidekick. The chase leads to Paris, where the smugglers are selling a dirty bomb to rogue Syrians. When an opening showdown fails, Ethan is rocked with convulsive headaches and flashbacks. He wakes in a hospital to learn he has brain cancer, which has spread to his lungs. Given an experimental drug to keep him alive, he has three days to stop The Wolf and reconcile with his rebellious teenager daughter and ex-wife.
3 DAYS TO KILL is that rare action movie that isn't afraid to slow down and take a breath at unexpected moments. There are funny chases and fights where both Ethan and his nemeses are injured but keep struggling. What makes this movie are the beautifully shot moments where Ethan bonds with his daughter. Thus, the movie has a moral, redemptive worldview. However, 3 DAYS TO KILL has some brief lewd moments, strong foul language, and frequent, intense action violence; so, extreme caution is advised.
SUNDAY BLOCKBUSTER

(Sun 20 April '14: MNet 20:05 & MNet Movies Premiere 20:30)
ZERO DARK THIRTY
WARNING: Heavy Intense Violence & Strong Language
NOT SUITABLE FOR FAMILY VIEWING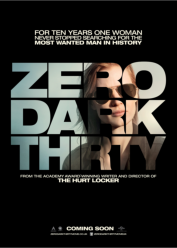 MovieGuide:
ZERO DARK THIRTY is about the killing of Usama bin Ladin, the leader of Al Qaeda, the Muslim terror group. The movie opens with a black movie screen while the screams of people dying in the Twin Towers on 9/11 can be heard. Cut to a CIA black site. Dan, an interrogator, is ruthlessly interrogating a money handler for Al Qaeda. Maya, an attractive, well-dressed woman, comes into the interrogation room, her first day in the field. Dan and Maya continue their interrogation work in Pakistan and Afghanistan to find bin Ladin. Just as they seem to be getting close to him, the higher powers in Washington, DC, led by President Obama, start to waffle. However, Maya becomes even more driven to find bin Ladin.
ZERO DARK THIRTY is extremely well made and powerful. It's also very patriotic and makes President Obama's lax interrogation policies look naïve. However, you never see the villain. So, when everything's solved, there's little exhilaration about defeating a nefarious force. ZERO DARK THIRTY also contains many strong obscenities and intense violence, so MOVIEGUIDE® advises extreme caution.
MovieGuide Full Review:
http://www.movieguide.org/reviews/zero-dark-thirty.html
Movie Trailer:
http://youtu.be/ZcWKsM6JamQ
CHRISTIAN MOVIE
CAMP HARLOW


Synopsis
Camp Harlow tells the moving story of Alex, a teenage bully who spends her time lashing out at classmates and making their lives as miserable as she possibly can. Only when Alex has a chance encounter at a local Christian summer camp, does she finally receive the wake-up call she so desperately needs. But will it be enough to truly turn her life around or will she just return to her bullying ways once camp is over? Camp Harlow is a touching story of redemption and hope. A faith-based drama and a gentle reminder that there is no soul beyond the saving reach of God's love.

Dove Review
What a film this is! It's about growing up and also about coming to Jesus. Alex is a teen-aged "mean n girl" who goes to a Camp Harlow, and her life is soon changed. She doesn't know it is a Christian camp when she first attends but she soon finds out. She initially goes to camp because she likes the boy who asks her to go.
She has an attitude before her conversion. For example, she tells one girl who gets into a bunk that she wants her to get out of it. She shoplifts and is mean spirited. She throws a girl's property into the toilet.
A counselor is involved in her conversion and she is baptized. Her new attitude amazes everyone and she makes amends to those she offended. With themes of change and forgiveness, this is a good one to watch. We are approving it for all ages although it is not really intended for the very young. This might be a good DVD to encourage kids to attend camp.
For more info or to purchase the DVD: http://www.brettian.com/titles/camp-harlow
nnovation Films is a creative film entertainment company comprising multi-faceted service departments including production, distribution, consulting, marketing and publicity.  www.innovationfilms.co.za   https://www.facebook.com/innovationafri
PLEASE SCROLL DOWN TO MAKE/VIEW COMMENTS
ADVERTISEMENTS:
---
COMMENTING GUIDELINES:
You are welcome to make comments that add value to the article above and to engage in thoughtful, constructive discussion with fellow readers. Comments that contain vulgar language will be removed. Hostile, demeaning, disrespectful, propagandistic comments may also be moved. This is a Christian website and if you wish to vent against Christian beliefs you have probably come to the wrong place and your comments may be removed. Ongoing debates and repetitiveness will not be tolerated.