MOVIEWISE – December 23 2016

Pieter Pohl, founder of Innovation Films and marketing manager of CMD Entertainment Africa, sheds some light on the latest movies.
Hillsong: Let hope rise DVD now available at CUM Books, Musica, takealot.com and other leading retailers.
For more info visit www.cmdafrica.com
SUNDAY BLOCKBUSTER
(Sun December 25 2016: MNet 20:05)
LOVE THE COOPERS
Movie Trailer: www.youtube.com/watch?v=-TSX_0rwPNc
PG 13L – Not Recommended for Families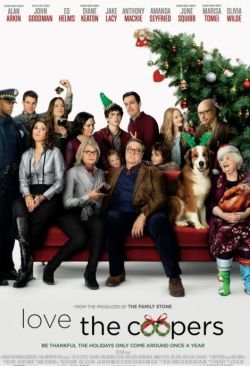 Synopsis:
When four generations of the Cooper clan come together for their annual Christmas Eve celebration, a series of unexpected visitors and unlikely events turn the night upside down, leading them all toward a surprising rediscovery of family bonds and the spirit of the holiday.
Dove Review:
Love the Coopers is a movie that does solve a lot of the characters' problems by the conclusion but, boy, do they have problems! Sam and Charlotte (John Goodman and Diane Keaton) have been married for years and have never taken the trip to Africa that Sam wants to take, mainly due to raising a family. They are getting together with their adult kids at Christmas, but they don't want to tell their kids they plan to get a divorce after the holidays. Their one daughter, Eleanor (Olivia Wilde), is dating a married man but meets a man named Joe (Jake Lacy) while traveling home, a man with whom she connects. She is a liberal and he is a staunch Republican, and they go back and forth over their views, despite the fact there is a spark between them. The other daughter, Emma (Marisa Tomei), lives alone and is overly sensitive. Oh, and there's a running joke about a little girl who calls people a name, which is a slang word for male genitalia.
When the entire family finally sits down for Christmas dinner, Joe offers to pray, and as he prays for this wonderful, "loving" family, one of the members lets loose with a profanity. As one person said to me following the film screening, "What a depressing Christmas movie!" And that pretty much sums it up. Other sub plots fit this "depressing" category, but I won't belabour the point. This family is dysfunctional with a capital "D!" They love to quarrel. The content is very strong, too, with the use of strong language, innuendos, and even a sexual joke about God that many will find totally distasteful. Avoid this one like busy malls at Christmas time. No Dove Seal for this movie. – www.dove.org
PLEASE SCROLL DOWN TO MAKE/VIEW COMMENTS
ADVERTISEMENTS:
---
COMMENTING GUIDELINES:
You are welcome to make comments that add value to the article above and to engage in thoughtful, constructive discussion with fellow readers. Comments that contain vulgar language will be removed. Hostile, demeaning, disrespectful, propagandistic comments may also be moved. This is a Christian website and if you wish to vent against Christian beliefs you have probably come to the wrong place and your comments may be removed. Ongoing debates and repetitiveness will not be tolerated.