MOVIEWISE — June 22 2017

Pieter Pohl, founder of Innovation Films and marketing manager of CMD Entertainment Africa, sheds some light on the latest movies.
THE CASE FOR CHRIST — IN CINEMAS NOW!
THE CASE FOR CHRIST — a movie that shows the life of Lee Strobel and how he did everything in his power to prove that there is no God. Within his quest to prove God doesn't exist, he experienced the love of God and found Jesus to be real and that changed his life for the good.
For more info visit www.cmdafrica.com
FAITH AFFIRMING MOVIES NOW ON DVD!
STREAMS IN THE DESERT: PART 1
Movie trailer & more info: https://www.youtube.com/watch?v=9XeLRCyXg-o
ALL AGES
Synopsis:
Lettie Coman, author of Streams in the Desert, was born in Ohio in 1870 and grew up in the little town where she met her husband. Five years after they marry the couple moves to Chicago, where they begin to feel God calling them to be missionaries to the orient. Part 1 of this story focuses on Lettie Coman's small town life, her transition to marriage, and the journey to Chicago.
Dove Review:
While traveling on a train to Chicago, Lettie Coman meets a young woman who enjoys Lettie's book of devotions, Streams in the Desert. She relates the stories of her life with her husband Charles, and the two recognise the Lord and the important relationship they have with him.
This is a very encouraging film of faith, belief, and being born again. It shows how sharing one's faith in the Lord can help many people, and we should never be afraid to do so. We are proud to award this spiritually inspiration film the Dove "Faith-Friendly" Seal for all ages. — www.dove.org
SUNDAY BLOCKBUSTER
(Sunday June 25 2017: MNET 101 20:05)
THE MECHANIC RESURRECTION
Movie trailer: https://www.youtube.com/watch?v=QF903RaKLvs
16VL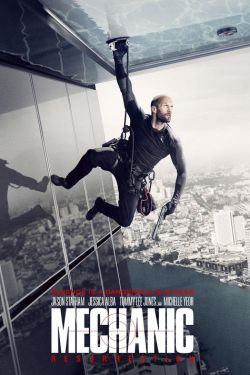 Synopsis:
Mechanic: Resurrection features action star Jason Statham as Bishop, a former hitman who's drawn back into that world when an arms dealer kidnaps Bishop's new girlfriend to force Bishop to assassinate the arms dealer's three biggest rivals. Mechanic: Resurrection is an engrossing B thriller with a few positive moral elements, but it has a high body count, some strong foul language and mixed messages otherwise, so extreme caution is advised.
Movieguide Review:
Mechanic: Resurrection stars Jason Statham as Arthur Bishop, a former hitman who's enjoying a secluded retirement in Brazil. His former childhood friend, an arms dealer named Crain, sends some goons to force Bishop to assassinate three of Crain's rivals. However, Bishop refuses and manages a daring escape. He tries to hide out on a small tropical island run by another friend. However, Crain kidnaps Bishop's new girlfriend, Gina, to force Bishop to kill the three rivals. Can Bishop turn the tables on Crain and save Gina and himself?
Mechanic: Resurrection is a B thriller, but it's engrossing and well made. Resurrection is a damsel in distress story. In this case, the damsel in distress, the protagonist's girlfriend, runs a rescue camp in Cambodia for children victims of sex traffickers. She wants to get back to her laudable charity work, and the hero wants to help her do just that. So, the movie contains some positive moral elements. However, Mechanic: Resurrection has a high body count with many intense gunfights, some strong foul language and a bedroom scene. So, extreme caution is advised. — www.movieguide.org
PLEASE SCROLL DOWN TO MAKE/VIEW COMMENTS
ADVERTISEMENTS:
---
COMMENTING GUIDELINES:
You are welcome to make comments that add value to the article above and to engage in thoughtful, constructive discussion with fellow readers. Comments that contain vulgar language will be removed. Hostile, demeaning, disrespectful, propagandistic comments may also be moved. This is a Christian website and if you wish to vent against Christian beliefs you have probably come to the wrong place and your comments may be removed. Ongoing debates and repetitiveness will not be tolerated.