Moviewise — November 18 2016 (WIN A DVD!)

Pieter Pohl, founder of Innovation Films and marketing manager of CMD Entertainment Africa, sheds some light on the latest movies.
MOVIEWISE WEEKLY GIVEAWAY
CAGED NO MORE DVD!

This week in partnership with CMD Entertainment Africa we will give away a copy of the CAGED NO MORE DVD. To be in the running please share this story on Facebook, or tweet it and email news@gatewaynews.co.za with the subject CAGED NO MORE and include your name, postal address, email address and cell number. The winner will be drawn on Wednesday November 23.
Congratulations to Charlene Wentzel who wins last week's giveaway prize — a CHASING GRACE DVD
HILLSONG: LET HOPE RISE – DVD Available FROM TODAY!
GOD'S NOT DEAD 2 DVD now available at CUM Books, Musica, takealot.com and other leading retailers.
For more info visit www.cmdafrica.comhttp://www.cmdafrica.com
FAITH AFFIRMING MOVIES NOW AVAILABLE ON DVD
CAGED NO MORE
MOVIE TRAILER & MORE INFO: https://www.youtube.com/watch?v=7ww7AMa2GVE
FOR AGES 12 AND OVER.
Review
Synopsis:
A FEATURE FILM THAT WILL RAISE AWARENESS OF HUMAN TRAFFICKING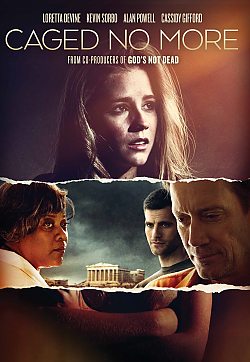 Inspired by real events, "Caged No More" is the story of Aggie Prejean, a grandmother on a desperate search to find her two granddaughters, Skye and Elle, who have been kidnapped by their sinister father. As the details behind the girls' disappearance begin to unravel, they have been discovered to have been taken overseas to be sold into the sex trade. Aggie enlists the help of the girls' uncle, a well-respected local philanthropist, and his son Wil, who is former Special Forces. A global hunt ensues, and the team will stop at nothing to see the girls safely returned home.
Dove Review
"Caged No More" is a powerful and dramatic film that dares to make a strong stand against sex trafficking. It features a talented cast, including Kevin Sorbo, Alan Powell, Cassidy Gifford and Abigail Duhon.
Sorbo plays twin brothers, Jack and Richard, and they're opposites. Richard is a family man and has a son who has just returned from serving in the military but will be heading back soon. Jack owes a drug debt and has sold one of his two daughters, Skye (Gifford), into sex trafficking and takes his other daughter, Elle (Duhon), to Greece to do the same. Aggie Prejean (Loretta Devine) took care of both girls as they grew up, and she is devastated when the girl's mother dies, just after giving her a clue about what her girls have endured. Aggie soon makes a connection with Richard, and Richard's son, Wil (Alan Powell), has the background, due to his military experience, to try to save Elle before it's too late. Saving her will be no easy task, and he will run into setbacks, but with Aggie praying for them, the odds begin to shift in Wil's favor in his efforts to reclaim both girls.
During the credits, actor Alan Powell and director Lisa Arnold make a plea for people to get involved to stop sex trafficking. We are pleased to award this movie our Faith Friendly Seal for ages twelve plus. –  www.dove.org
SUNDAY BLOCKBUSTER

(Sun November 20 2016: MNet 20:05 & MNet Movies Premiere 20:30)
SICARIO
Movie Trailer: https://www.youtube.com/watch?v=5PwwJ-18Y9g
PG – 13VL – Not Recommended for Families
Synopsis: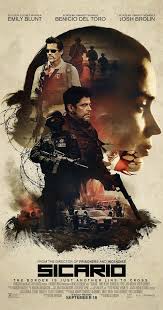 SICARIO is a brutal, violent thriller about the American governments battle with the drug cartel in crime-ridden Juarez, Mexico. SICARIO is intriguing till the very end and shows evil as evil, but it's morally ambiguous at times and the grisly, brutally realistic violence is almost too much to bear. So, extreme caution is advised for SICARIO.
Dove Review:
SICARIO is a brutal, violent thriller about the American governments battle with the drug cartel in crime-ridden Juarez, Mexico. Kate is a tough FBI agent who does everything by the book. When a house raid in a Phoenix suburb turns up over 40 dead, kidnapped bodies, Kate is given the opportunity to catch the cartel leader responsible by working with an elite government task force. However, the task force functions outside the Rule of Law at times, putting Kate on edge with her new team members.
SICARIO is intriguing till the very end and hardly lets up, except for the hilarious antics of Josh Brolin's character, which provide some perfect levity to the movie. Expertly directed by Denis Villeneuve and lensed by brilliant cinematographer Roger Deakins, SICARIO hearkens back to some of Roger's previous great work. While the movie ethically chooses to sit in the grey areas, what can't be denied is that evil must be stopped, but one shouldn't compromise ethically to stop that evil. SICARIO's grisly, brutally realistic violence is almost too much to bare, so extreme caution is advised. – www.movieguide.org
PLEASE SCROLL DOWN TO MAKE/VIEW COMMENTS
ADVERTISEMENTS:
---
COMMENTING GUIDELINES:
You are welcome to make comments that add value to the article above and to engage in thoughtful, constructive discussion with fellow readers. Comments that contain vulgar language will be removed. Hostile, demeaning, disrespectful, propagandistic comments may also be moved. This is a Christian website and if you wish to vent against Christian beliefs you have probably come to the wrong place and your comments may be removed. Ongoing debates and repetitiveness will not be tolerated.