NBC Superbowl commentator stands by his comments on star quarterback's faith
Originally published in Urban Christian News
NBC commentator Tony Dungy has been attacked over his remarks that Philadelphia Eagles quarterback Nick Foles would 'play well because his Christian faith would allow him to play with confidence'.
Dungy, a former head coach for the Tampa Bay Buccaneers and Indianapolis Colts, described Foles' strong Christian faith on air during Super Bowl LII.
Foles is outspoken about his faith and has said he wants to be a pastor for high school students after he finishes his NFL career.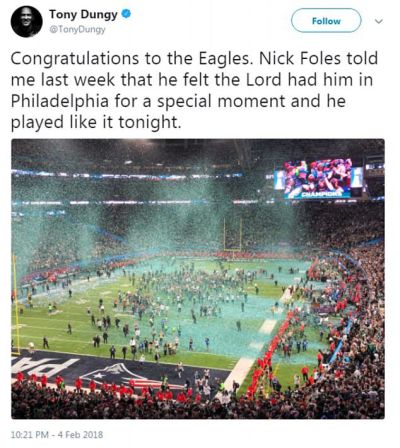 After the game, Dungy reported that 'Foles told me last week that he felt the Lord had him in Philadelphia for a special moment and he played like it tonight.'
Some critics ripped into Dungy on Twitter, accusing him of 'preaching on air'.
'Really think the LORD is into football? Get a grip,' wrote one critic.
'Why would He not be?,' replied Dungy, who spent much of Monday patiently replying to the scorn heaped upon him by online critics.
Some accused the former coach of somehow discrediting NBC with his remarks about faith. 'Unbelievable you would use your employer, @NBCSports, to spout this nonsense on the air,' one wrote.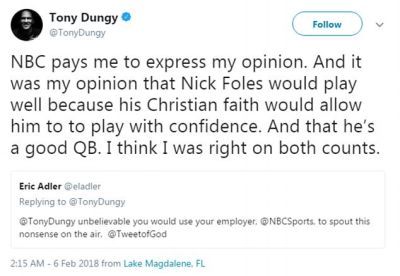 'NBC pays me to express my opinion,' replied Dungy. 'And it was my opinion that Nick Foles would play well because his Christian faith would allow him to play with confidence. And that he's a good QB. I think I was right on both counts.'
'Why would you find it hard to believe that the Holy Spirit could speak to Nick Foles just as much as a coach could speak to him?' Dungy continued.
'If he credited a coach for saying 'Stay calm and be confident' that's good. But if he tells me Christ says that to him I shouldn't report it???'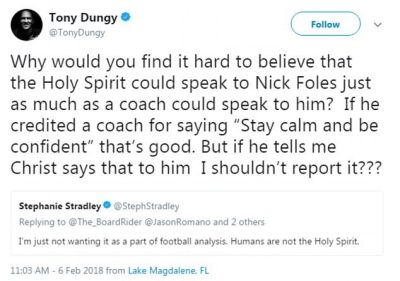 After the Eagles' upset victory over the New England Patriots, Foles said he gave 'all the glory to God' during the nationally televised awards ceremony.
Many were surprised by the moment, with one Twitter user writing: 'It's just so rare for people to thank Jesus after they win. Amazing!!'
To Christian critics who said he was trivialising the religion by involving it with mere sports, Dungy replied that they had missed the point.
'This was much bigger than the score of a football game,' Dungy wrote.
'How many young boys are going to look up to Nick Foles because of what he did in this moment? When they do they'll see something about LIFE!'
PLEASE SCROLL DOWN TO MAKE/VIEW COMMENTS
ADVERTISEMENTS:
---
COMMENTING GUIDELINES:
You are welcome to make comments that add value to the article above and to engage in thoughtful, constructive discussion with fellow readers. Comments that contain vulgar language will be removed. Hostile, demeaning, disrespectful, propagandistic comments may also be moved. This is a Christian website and if you wish to vent against Christian beliefs you have probably come to the wrong place and your comments may be removed. Ongoing debates and repetitiveness will not be tolerated.