SA Back to God calls for fast for SA on May 2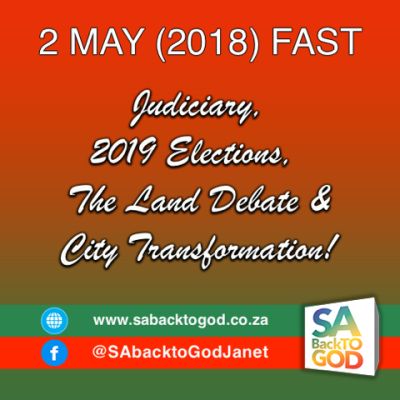 SA Back to God's Janet Brann-Hollis has made a call for intercessors to unite in fasting and prayer on Wednesday May 2, for the judiciary , the land question and the restoration of cities of South Africa.
In a video introduction [See below] to the fast she says she had a vision of principalities being released to bring chaos and destruction to the nation but that Christians could counter-petition and make a huge impact in the spiritual realm through fasting and prayer.
She urged pastors and leaders to encourage cell groups and other groups to participate in the fast on Wednesday.
She said the fast day was based on the Nehemiah city transformation principle demonstrated when he wept, mourned and fasted for Jerusalem.
Click here for prayer guidelines.
PLEASE SCROLL DOWN TO MAKE/VIEW COMMENTS
ADVERTISEMENTS:
---
COMMENTING GUIDELINES:
You are welcome to make comments that add value to the article above and to engage in thoughtful, constructive discussion with fellow readers. Comments that contain vulgar language will be removed. Hostile, demeaning, disrespectful, propagandistic comments may also be moved. This is a Christian website and if you wish to vent against Christian beliefs you have probably come to the wrong place and your comments may be removed. Ongoing debates and repetitiveness will not be tolerated.