Three-day fast for SA called from August 12 to 14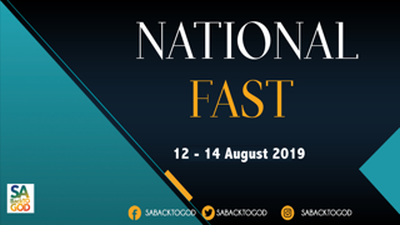 South African prayer warriors are invited to participate in a 3-day fast for the nation from August 19 to 21, says Janet Brann-Hollis of SA Back to God.
In a post on the SA Back to God website she says she called the fast in response to a clear instruction from God that was confirmed by other prophets in SA.
She says the nation is in a crisis and that God showed her that the fast should focus on the government and cities.
View video of call to fast:
The prayer points, as published on the SA Back to God website, are:
1. Our Government – Govern the country
Pray that God would rend the Heavens over S.A. –Isaiah 64: 1
That God would move speedily to break the impasse between our President and the Public Protector
LET US PETITION OUR GOD DO THE FOLLOWING:
• Let us go into the COURTS OF HEAVEN and receive VERDICTS on behalf of our nation! May the legalities of witchcraft, idol worship, greed, love of money be dealt with in the courts….
• Let us hand the enemies of South Africa into the JUST AND FAIR JUDGEMENT OF ALMIGHTY GOD!
PRAY ALSO FOR THE FOLLOWING:
• Preservation of institution of Public Protector.
• May God deal with corruption, foolishness/incompetence
• Nullify the anarchistic spirits of violence and voices that are trying to control the nation!
• Pray for the Preservation of our democracy
• Safeguard our developmental state
• Decrease unemployment, declaring new strategies to grow our economy.
2. Our Cities
Rule of Law / Good governance –
• Governors to rule well, that their rulership and governance would be protected — Ezra 8:36
• Our cities would be rebuilt…. Jeremiah
• Peace in the city – Isaiah 1:7 – as our cities are burning
• Cities overflow with prosperity — Zachariah 1:17
It is the effectual fervent prayer of a RIGHTEOUS NATION that avails much. As we fast and pray, God will hear our prayer!
Isaiah 58:6-8
PLEASE SCROLL DOWN TO MAKE/VIEW COMMENTS
ADVERTISEMENTS:
---
COMMENTING GUIDELINES:
You are welcome to make comments that add value to the article above and to engage in thoughtful, constructive discussion with fellow readers. Comments that contain vulgar language will be removed. Hostile, demeaning, disrespectful, propagandistic comments may also be moved. This is a Christian website and if you wish to vent against Christian beliefs you have probably come to the wrong place and your comments may be removed. Ongoing debates and repetitiveness will not be tolerated.