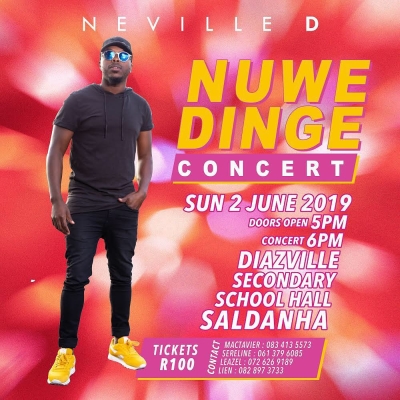 Listening to Neville D's music on the CD player while driving, I am always in awe of his incredible talent and artistry.
This Cape Town prodigy is comparable with some of the top global Christian artists of our time. His musical ability, original sound, authentic love for Jesus and desire to serve and glorify God seem to exude from his music.
Having the opportunity to witness his talent in person again at an event held in a school hall in Diazville, Saldanha Bay, on the evening of June 2 was an absolute treat.
As an international award-winning artist and believing him to be one of South Africa's top Gospel artists in terms of pure talent, I was a bit disturbed when I first heard about the venue because I considered it an insult to his stature as an artist. Forgive me for my prejudice — I'll be the first one to admit that God still has a lot of work to do on me – but I soon acknowledged the error in my thinking. Diazville is a previously-marginalised community and by hosting the event in a school hall, so many people who do not have their own transport were able to attend. It reminded me that this is how God works – we may have our own ideas, perceptions, issues, solutions, etc. but it may be so far off the mark in terms of what God wants to do.
'Not about me'
This is a point Neville actually made when I spoke to him just before he went on stage. In describing his relationship with God, Neville said: "The older I get, the more I realise that what I do was never about me. It was never about what I could do. It was about His love for me. It's all about Jesus. We love God because He first loved us and, sometimes, we try to prove our love to God, yet He simply wants us to receive His love. Just receive the love of Jesus, live in it and show His love to others."
This was the core message of the concert… to embrace God's love and believe that He is able to make all things new.
For Neville, "growing up" in the Pentecostal Protestant Church (PPC), church has always been his life, although he only got saved at the age of about 12.
He said that his musical career did not happen as a result of a conscious decision but was more of a natural progression from his love of "singing for Jesus".
"I do not see myself as being in ministry more than any other believer. As a believer, everything we do is ministry, whether you sing, work in a bank or work in a church," he explained and in his modest and humble manner added: "I have the same challenges as any other person."
Afrikaans album
The singer, songwriter, recording artist and producer's music caters for both an English and Afrikaans audience. "With the last album, Nuwe Dinge, it was particularly for people understanding Afrikaans and, today, Afrikaans-speaking people live all over the world… even in Suriname*. It was the funniest thing to see people from Suriname commenting in response to the album's release," he said.
"I also wanted to do an Afrikaans album as a tribute. The songs are what is known as 'koortjies' and I wanted to show my kids where I come from because they don't know that part of me," he commented.
While doing a bit of research before writing this article, I read someone's criticism about Neville wearing earrings and their statement that not everyone who says "Jesus" belongs to Him. True enough, the Bible encourages us to test the spirits but, in this case, it does seem as though the person was a bit quick to judge based on appearances.
What I have learnt in my almost nine years with Christ is that we are all on our own unique journey in our relationship with God and we should not be too quick to judge but instead pray and ask the Holy Spirit to reveal His truth.
If one considers what happened to Jesus who, despite being holy and without sin, was accused of being a drunkard because He drank wine, as Luke 7:34 suggests. Neither did he condemn drinking wine, which is evident from the fact that His first miracle was turning water into wine.
Even the apostle Paul who wrote most of the New Testament advised Timothy to drink a little wine — emphasis on "a little" and spoke against drunkenness in Ephesians 5:18. Having said this, I cannot imagine the Holy Spirit giving a recovering alcoholic the go-ahead to consume alcohol.
For me, the litmus test to identify evidence of the fruit of the Spirit is to look at the lifestyle of someone who calls himself a believer and follower of Christ, to see how he behaves towards others and to analyse what I feel and experience when I am in his presence or immediately thereafter.
God and family
When I consider Neville D in this context – I did some homework using Google and this was not the first time I met him – I see a man who has a heart for God and, subsequently, a heart for family — and he has a fairly long track record to prove that. He has been married to his wife, Liezle Diedericks, for more than 19 years; she was at the Diazville concert marketing his music recordings.
He also cares about people to the point where he gives counsel during his performance on healthy living and taking care of our bodies. He does it with such love and humour that one gets the message without taking offence.
As a result of his mom's death from Type 2 diabetes at the age of 60 a few years ago, he developed a passion for encouraging his audience to change their eating habits in favour of a healthier lifestyle by avoiding sugar, processed foods and exercising regularly.
Some of his social media posts show his own journey in this regard. His mom's death also led him to pen the song, Broken, that can be heard on his Beauty of Difference, Season 3 CD.
In 2015, Neville D won a Dove Award in the Traditional Gospel Song of the Year category for the song, How Awesome Is Our God, which he co-wrote with American Gospel artist, Israel Houghton. The awards are presented annually by the American Gospel Music Association (GMA) in the United States to recognise outstanding achievement in the international Christian music industry.
A few months later, the same song was nominated for the Best Gospel Performance/Song of the Year Award at the 58th Grammy Awards, one of the Big Three major awards for different genres of music presented annually; the other two being the American Music Awards and Billboard Music Awards. For some strange reason, while nominated on two occasions, Neville D has yet to win a South African Music Award (SAMA).
* Suriname, previously known as Dutch Guiana, is one of South America's smallest countries and was a plantation colony of the Netherlands that gained independence in 1975.