Home � News � South Africa �
Two weeks to the Comrades — please help us run for the kids of LIV Village
Two weeks to the Comrades — please help us run for the kids of LIV Village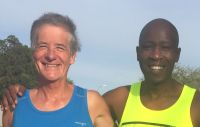 Gateway News chairman Afrika Mhlophe and editor Andre Viljoen will be running in the Comrades Marathon from Durban to Pietermaritzburg on Sunday June 4.
That's just over two weeks away. We are excited about this running challenge and our dream is to use the occasion to raise funds for LIV Village, an orphan village near Durban, which inspired us powerfully when we visited them in November last year.
This village with the cross of Christ at the centre is taking abused orphan kids and transforming them into the leaders of tomorrow. They also have a vision to expand throughout South Africa — literally impacting millions of children who would otherwise face an uncertain future.
Please HELP US TO RUN FOR THE KIDS OF LIV VILLAGE by supporting our campaign. We have just moved our campaign to the Givengain platform to make it really easy for you to make a donation. PLEASE CLICK HERE TO SUPPORT THIS WORTHWHILE CAMPAIGN.
PLEASE SPREAD THE LOVE AND SHARE THIS POST
PLEASE SCROLL DOWN TO MAKE/VIEW COMMENTS
ADVERTISEMENTS:
---
COMMENTING GUIDELINES:
You are welcome to make comments that add value to the article above and to engage in thoughtful, constructive discussion with fellow readers. Comments that contain vulgar language will be removed. Hostile, demeaning, disrespectful, propagandistic comments may also be moved. This is a Christian website and if you wish to vent against Christian beliefs you have probably come to the wrong place and your comments may be removed. Ongoing debates and repetitiveness will not be tolerated.