UPCOMING CHRISTIAN EVENTS
Check in regularly to find out what is coming up 
PE BOOK LAUNCH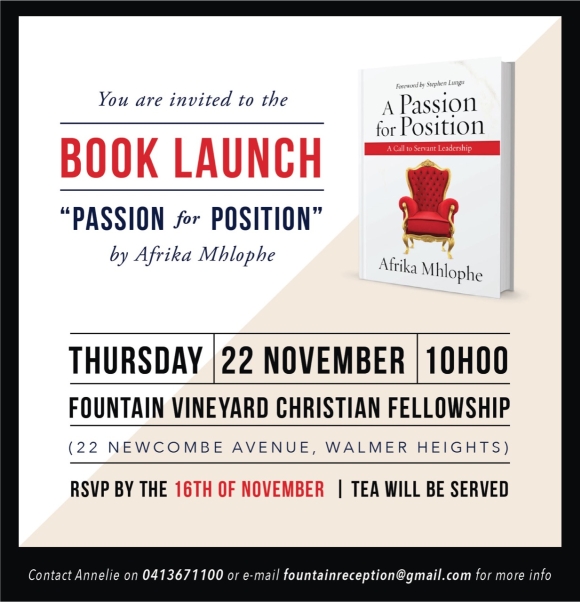 Email
advertising@gatewaynews.co.za
 ( or call 083 309 7030) for more info on our
Upcoming Christian Events
advertising package — and
get your event listed here
and
in our weekly newsletters
.

LOUIS BRITTZ in Port Elizabeth
Kraggakamma Dutch Reformed Church, Gazania Avenue, Sunridge Park.
Saturday November 24  9am to 1pm
Seminar for ALL worship leaders and worship teams.
No cost, donations welcome. Contact Frans 0834526396.
Saturday November 24    6.30om for 7pm
Evening of Worship. Cost R100 per ticket.
Contact Niekie 0825618747
Heideveld Church Port Elizabeth — Annual Christmas Fair
Heideveld Church in Dundee Road, Rowallan Park, PE
Friday November 20 at 4.30pm
Saturday December 1 at 08.30am
For more information contact Ria 0827829029 or the church office 041-3712435.
PLEASE SCROLL DOWN TO MAKE/VIEW COMMENTS
ADVERTISEMENTS:
---
COMMENTING GUIDELINES:
You are welcome to make comments that add value to the article above and to engage in thoughtful, constructive discussion with fellow readers. Comments that contain vulgar language will be removed. Hostile, demeaning, disrespectful, propagandistic comments may also be moved. This is a Christian website and if you wish to vent against Christian beliefs you have probably come to the wrong place and your comments may be removed. Ongoing debates and repetitiveness will not be tolerated.