Home � News � South Africa �
WATCH VIDEO: 'Pray and fast for supernatural solution to land question'
WATCH VIDEO: 'Pray and fast for supernatural solution to land question'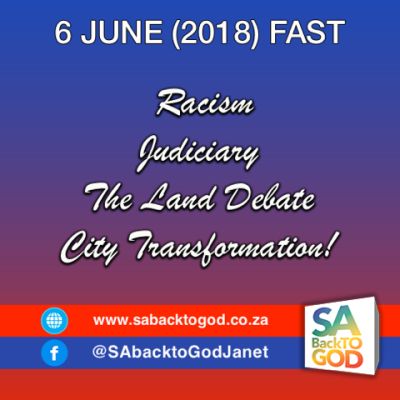 God really wants to move on the leaders of South Africa in what is a pivotal moment during which the land question could be settled very peacefully, says SA Back to God's Janet Brann-Hollis in a video [See below] —  promoting SABTG's June fast.
She calls on Christians to pray for God to give leaders the wisdom of Solomon so that He can solve the land issue supernaturally.
Other prayer topics in SABTG's June fast are cities, racism and the judiciary. Every month SABTG calls on believers in SA to unite in prayer and fasting on the first Wednesday of the month. Prayer pointers for next Wednesday's fast can be found here.
PLEASE SCROLL DOWN TO MAKE/VIEW COMMENTS
ADVERTISEMENTS:
---
COMMENTING GUIDELINES:
You are welcome to make comments that add value to the article above and to engage in thoughtful, constructive discussion with fellow readers. Comments that contain vulgar language will be removed. Hostile, demeaning, disrespectful, propagandistic comments may also be moved. This is a Christian website and if you wish to vent against Christian beliefs you have probably come to the wrong place and your comments may be removed. Ongoing debates and repetitiveness will not be tolerated.