WATCH: Yes Lord, We Will Ride!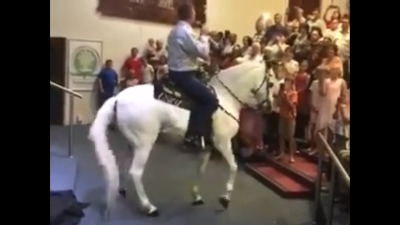 "Will you ride with me?" asks the Lord with fire in His eyes and a sword in His hand in the worship song by Andy Park of Vineyard Worship.
"Yes Lord, we will ride with you," sings skilled horseman and lay preacher Armand van der Merwe as he rides forwards, backwards, sideways and more ways (See video clip below) on his magnificent white boerperd horse, Ferm, during a church service at Wonderboompoort Herlewingsentrum in Mayville, Pretoria, last Sunday.
The clip was WhatsApped to us today by a Gateway News reader Suzette van Rooyen, who subsequently did some detective work for us to find out more about the mounted minister, whose story is reported in News 24.
PLEASE SCROLL DOWN TO MAKE/VIEW COMMENTS
ADVERTISEMENTS:
---
COMMENTING GUIDELINES:
You are welcome to make comments that add value to the article above and to engage in thoughtful, constructive discussion with fellow readers. Comments that contain vulgar language will be removed. Hostile, demeaning, disrespectful, propagandistic comments may also be moved. This is a Christian website and if you wish to vent against Christian beliefs you have probably come to the wrong place and your comments may be removed. Ongoing debates and repetitiveness will not be tolerated.