Womb Stewardship releasing second worship album at PE event in October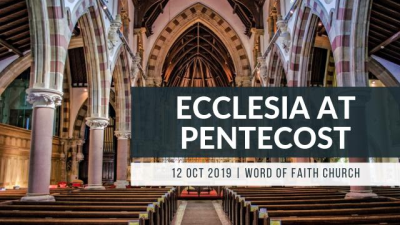 Womb Stewardship will be releasing its second worship album, Ecclesia at Pentecost at a spectacular musical event in Port Elizabeth on October 12.
The ministry's new album follows the release of its debut album, Breakthrough last year.
All the songs on the Breakthrough album were written by Womb Stewardship founder Dr Pinky Ngcakani-Ncula, who collaborated with Port-Elizabeth based group, Grace SA during recording.
This time around, Dr Pinky was once again inspired to write songs that aim to make an impact rather than simply to become a "hit". From the sublime talent of guest artists Ntokozo Mbambo and Nqubeko Mbatha, to the phenomenal artistry of Universal and Resound, listeners have a lot to look forward to on the Ecclessia at Pentecost album.
Dr Pinky believes that it's time the Church transitions from buildings to people. This, she says, is what will make us united in mind, heart and mission because the focus and reference is similar – a full and abundant life in Christ.
"Our journey in this world was designed to express accurately the picture of who God is. If we can tap into that potential in concurrence, be through it gifts or talents or abilities, we can change the colour of the landscape," she says.
The October 12 worship event is a calling for us all to gather in order to experience the presence of our multi-faceted God who commands blessing in unity.
The event will run from 6.30pm to 9pm at Word of Faith Christian Centre. Tickets cost R150 and are available at Computicket. Every booking comes with a studio version of the Ecclessia at Pentecost CD. T-shirts will also be available for purchase. Contact Nontobeko Mbobela on 061 412 9558 or email nonto@wombstewardship.co.za for more information.
PLEASE SCROLL DOWN TO MAKE/VIEW COMMENTS
ADVERTISEMENTS:
---
COMMENTING GUIDELINES:
You are welcome to make comments that add value to the article above and to engage in thoughtful, constructive discussion with fellow readers. Comments that contain vulgar language will be removed. Hostile, demeaning, disrespectful, propagandistic comments may also be moved. This is a Christian website and if you wish to vent against Christian beliefs you have probably come to the wrong place and your comments may be removed. Ongoing debates and repetitiveness will not be tolerated.