Youth Day prayer meeting in Cape Town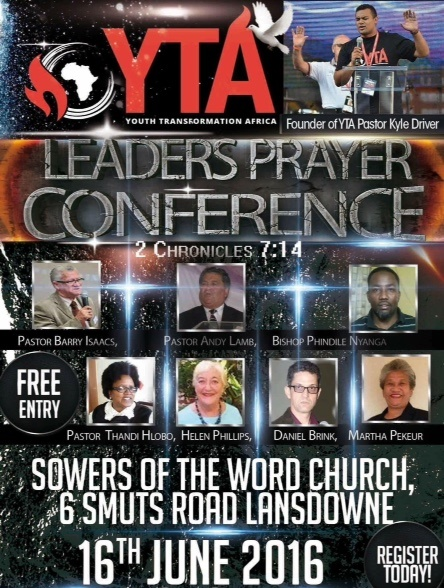 Youth Transformation Africa (YTA) is hosting a Prayer Conference on Youth Day, June 16,  at Sowers of the Word Church, Lansdowne, Cape Town.
"Our city and nation is in need of the church to unite in prayer like never before," says Kyle Driver of YTA.
Speakers include Pastor Andy Lamb, Pastor Barry Isaacs, and Bishop Phindile Nyanga. Four prayer networks, Prayer Mushrooms, Jericho Walls Prayer Network, Hebron Prayer Network and Youth Transformation Africa will conduct prayer workshops during breakaway sessions.
The conference will aim to address the challenges that the youth are faced with in this current generation and how to overcome these challenges by the power of prayer. It will also focus on creating an opportunity for the older generation to impart their wisdom and experiences with regard to their respective fields of expertise to emerging leaders, irrespective of age.
Anyone wishing to attend the Leaders Conference need to confirm their attendance by sending their full name, name of church or organisation, number of people attending and contact number to admin@yta.org.za by today, June 10 2016.
PLEASE SCROLL DOWN TO MAKE/VIEW COMMENTS
ADVERTISEMENTS:
---
COMMENTING GUIDELINES:
You are welcome to make comments that add value to the article above and to engage in thoughtful, constructive discussion with fellow readers. Comments that contain vulgar language will be removed. Hostile, demeaning, disrespectful, propagandistic comments may also be moved. This is a Christian website and if you wish to vent against Christian beliefs you have probably come to the wrong place and your comments may be removed. Ongoing debates and repetitiveness will not be tolerated.