Zola Budd dedicates her Comrades run to Pierre Korkie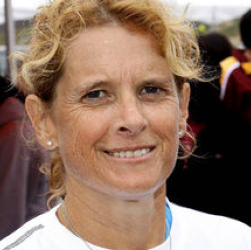 Originally published in ecna.com
Veteran athlete Zola Budd says she will dedicate her Comrades Marathon run to Pierre Korkie, who coached her in the late 1990s.
She will run the ultra-marathon on Sunday with a yellow ribbon to honour the former Bloemfontein teacher who has been held by Islamic militants in Yemen since they captured him and his wife, Yolande, a year ago.
Budd has invited other runners to join her in her tribute to Korkie. Her manager says she is not trying to make a political statement but rather a heartfelt gesture to remember her former coach.
The Korkie family has asked South Africans to 
fast and to continue praying for Pierre's release
. The Korkies were on a teaching assignment when they were captured. Yolande was released in January but militants are demanding millions in exchange for Pierre's freedom.
There have been increasing concerns about Korkie's ailing health and Yolande has made several public-pleas for her husband's release. Government and NGO Gift of the Givers are still trying to negotiate his release.
PLEASE SCROLL DOWN TO MAKE/VIEW COMMENTS
ADVERTISEMENTS:
---
COMMENTING GUIDELINES:
You are welcome to make comments that add value to the article above and to engage in thoughtful, constructive discussion with fellow readers. Comments that contain vulgar language will be removed. Hostile, demeaning, disrespectful, propagandistic comments may also be moved. This is a Christian website and if you wish to vent against Christian beliefs you have probably come to the wrong place and your comments may be removed. Ongoing debates and repetitiveness will not be tolerated.