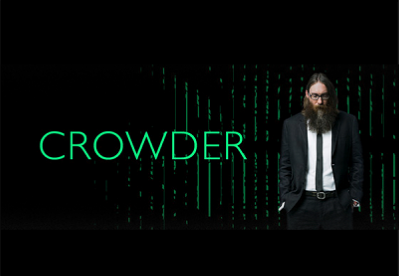 Music Review by Luchae Williams
Neon Steeple, debut studio album of Christian muso, Crowder, is what I would simply call 'different'. Crowder, known for his strong lead in the now split David Crowder Band, is considered a folksy, rock-y, country-ish, philosophical, theological, story-telling genius and has featured at the annual Passion Conferences in Atlanta.
Neon Steeple is what some of his fans call a 'breath of fresh air' and displays fresher hooks and more thought out, but really simple, lyrics. My rock star husband would appreciate Crowder's love for experimenting with various sounds and instruments. I, on the other hand, appreciate that although the sound is different to what I normally listen to, it is still really catchy – with attractive rhythms and sing along jams that hold powerful messages.
Opening track, My Beloved has a cool intro – rapid hand-clapping, followed by a folksy sounding Crowder singing "There's a song coming out/In my soul/Oh in my soul". Featuring a cool banjo and a few "hey hey"s chanted by what sounds like a bunch of really fun, radical Christians dancing around a fire (hehe), this track is very entertaining and dare I say sweet. Oh and there are no apparent electric lead instruments! How refreshing.
I Am, the album's first single, speaks about the resurrection of Christ and the love of God. I loved this song from the get go, with opening lyrics that simply declares: "There's no space where His love can't reach/There's no place where we can't find peace/There's no end to amazing grace." I love that the chorus is an anthem and a declaration that fills you with hope and a certainty that you can hold on to Christ in the middle of a storm because He is not going anywhere!
Songs like Hands of love, Aint no grave and You are are funky, mixed genre songs that make you want to hop around like you're at a Holy Spirit barn dance. I really, really likey! By the way, Jesus is calling is a true Johnny Cash meets country meets 'let's wear cowboy hats and praise the Lord!' kind of track. So different and so interesting to listen to!
Lift your head weary sinner (chains) is a bluesier, acoustic track that speaks to lost hearts and prodigal sons, calling them to the wide open gates of salvation.
Worship song Come as you are is a beautiful track that speaks about laying down your burdens and shame, inviting the lost to come as they are to the table of the Lord. Equally beautiful is his duet with Emmylou Harris on the track My sweet Lord.
Thank you Crowder for being bold enough to worship the Lord with songs and sounds that are heartfelt and true to your heart rather than follow the same mainstream, alternate, electric guitar based anthems that so many are recording lately. I agree that each generation has its own sound and I'm sure that these sounds and songs are more often than not birthed from a deep place… But I truly do love when above the electric amps and techno jams, a simple banjo is strumming along, making a melody unto the Lord in its own unique way.