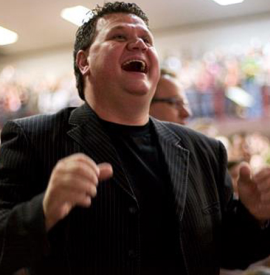 Memorial services for revivalist Pastor Danie Slabbert, 46, who died after a heart attack on Sunday (January 19) will be held in Cape Town on Monday, January 27, and in Port Elizabeth on Saturday, February 1, his wife, Pastor Odette Slabbert announced yesterday.
Slabbert's life will be celebrated in his former home town, Port Elizabeth, at a special service dubbed "Ps Danie Slabbert's Final Crusade" at Word of Faith Christian Centre. The service will include his 'final sermon' comprising various video clips of his best and favourite messages. The memorial celebration DVD will be available at the church after the service.
The memorial service in Cape Town will be at the Good Hope Christian Centre. Both services are expected to be packed with friends, followers and loved ones from all over South Africa.
Slabbert passed away on Sunday morning shortly after ministering live on TBN at The River Church, East London. Pastor Odette initially called for intercessors to join her and their spiritual family as they prayed for her husband's resurrection. But the prayer campaign was called off two days later after his family and loved ones felt at peace that  he was "in his element, the glory of God, and does not want to come back".
The service details are:
Monday, January 27 @ 12pm
Good Hope Christian Centre
Cnr. Panton and Plantation Rd,
Ottery, Cape Town.
Saturday, February 1 @12pm
Word of Faith Christian Centre
Cnr William Moffett and Lily Street,
Mangold Park, Port Elizabeth.