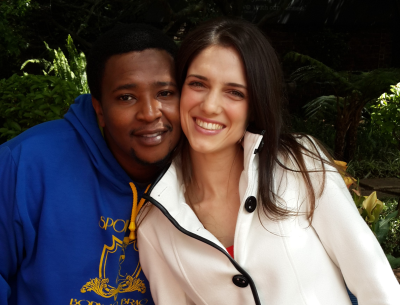 Idols finalist, Christina Williams, performed alongside fellow finalist and runner-up Brenden Ledwaba at the Uitenhage Street Carnival last weekend. The 21 year old bubbly songstress made it to the top 7 of the 9th edition of Idols SA this year.
"Being a part of idols is the best thing that's happened to me so far," says the sincere pop star from Port Elizabeth. "I never thought I could achieve something like that or even be something close to a celebrity. The only explanation for me making it this far is the grace of God."
This season of Idols SA was said to be a close race, with just over a 1 000 votes separating the winne, Musa Sukwene (26) from 19-year old Ledwaba last Tuesday.
"We have never experienced such a close race before on Idols SA," commented Lani Lombard, M-Net's head of publicity and special projects. "It's testament to the calibre of the contestants as well as the passion of the fans. It's fantastic to be able to provide such a phenomenal platform for untapped local singing talent."
Sukwene walks away with a prize package worth over R1-million, which includes a recording contract from Universal Music South Africa.
Ledwaba was rumoured to be the overall favourite for this season and even his fellow contestants were surprised at the final outcome.
"From the start I always thought Brenden was everyone's biggest competition, but it turns out that Musa was the underdog!" said Williams, who felt that both finalists deserved the title anyways.
"Musa is a great guy with a lot of knowledge and experience when it comes to music, and he is someone that others can look up to and respect."
Williams is hopeful that she will receive a recording contract of her own soon, and is working towards launching her own album in the near future.
"I prayed that God would just take me to where I needed to be and He took me even further than I expected!" she said when asked about her Idols SA experience and future plans. "So for now I'll be writing songs and preparing for the New Year. 2014 is the year of bigger things to come!"
Bookings information for Christina is available from her agent, Lisa Loeb, at 082 560 1756 or lisa@aboutentertainment.co.za