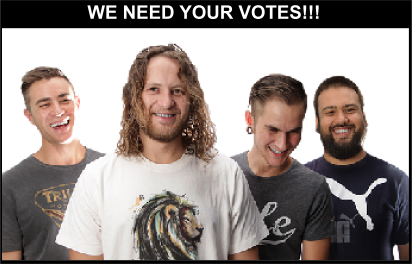 Local Christian band, Sons of Life, have been nominated for the prestigious IMEA awards in America following the release of their debut album, We will fly, earlier this year.
The Stilfontein-based Christian band was chosen out of thousands of bands predominantly based in America, as one of five nominees for the IMEA Christian Rock Album of the Year Award. "Sons of Life definitely have a decent American following," shared Quintis Jacobs, band marketing manager and close friend. "They are in the top 10 artists on an American platform called New Release Tuesday."
Sons of Life song, "Swallowed up by life", was also nominated as Christian Rock Song of the Year. The track was written by band member, Johan van Rensburg who is the lead vocalist and pianist of the ensemble. "It was written for our church's bi-annual conference called 'Life Conference'," explained Jacobs. "The song speaks about how Jesus came to give us life and how we must take this life and live it." The track was produced by Sam Gibson, renowned producer who has worked with the likes of Hillsong, Jesus Culture, Kari Jobe and Bethel Music.
An honour
The International Music and Entertainment Association Awards are held annually to honour and recognise individuals and organisations in the music, theatre and film industries, internationally. "It is an honour for a South African band to be nominated on any International platform," remarked the band's spokesperson who shared that the band would be sending a representative to the awards. "They are excited about the award!" He explained that an American tour is not on the cards yet but that they would like to tour the USA soon.
Born in Klerksdorp and raised in Stilfontein, brothers Kobus, Johan and Petrus formed 'Sons of Life' after much encouragement and pressing from their father, the late Pastor Kobus van Rensburg, founder of Spirit Word Ministries. Prior to that, Pastor van Rensburg had prophesied over his sons, cheering them on to pursue their passions and dreams. They were taken to music classes from an early age and developed a deep passion for worship and ministry. Since then they formed an integral part of the Spirit Word worship team. In September 2013, Terrence van Wyk joined the brothers to fill the last position in the band, as the bassist.
When Jesus Culture manager, Jerry Niswander, visited Spirit Word Ministries in 2013, he was blown away by the band, sharing that he could listen to their worship the whole night. Soon thereafter Niswander signed the brothers up to his label, Rylan Records, becoming their band manager. A live recording was arranged for November 2014, after a scheduled trip to the Annual Bethel Conference in Redding, California. Things soon changed when Niswander visited Spirit Word again in September 2013, this time bringing Jake Hamilton along with him. A relationship was soon established, leading to a unanimous decision that Hamilton feature on the band's debut album and live recording. The live recording, which was covered by Gateway News, took place in November 2013 and covered a variety of original songs by Martin Smith, Jesus Culture, Phil Wickham and Jake Hamilton. It also features original songs written by the members of Sons of Life.
Because the IMEA Award winners are chosen predominantly by the public, Sons of Life are encouraging their followers to vote as many times as their can. "We need people to vote and help make a name for South Africa yet again!" they shared.
To vote for Sons of Life, simply follow the IMEA link, fill in your email address and scroll down to 21 and 22 and submit your vote.
Voting closes on Wednesday, August 27, 2014.