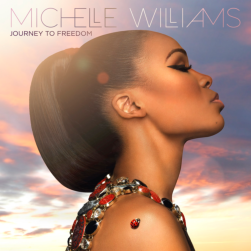 Music Review by Luchae Williams
Let me start off by saying that I've always preferred Michelle Williams' vocals to that of her former band members of mega group Destiny's Child. So I am, without a doubt, thrilled to present to you her 4th studio and highest-charting solo album yet, Journey to Freedom. With this album, Williams returns to her Gospel roots, which showcases a perfect blend of RnB, urban, contemporary and soul.
Williams has shared that her victory over depression and journey with God has inspired many of the songs on the album, resulting in funky, liberating anthems and songs that promote healing and growth. 
With award winning producer, Harmony Samuels, who is of Nigerian descent, as part of the album's creative team, it's easy to spot his musical influence in some of the catchy, Nigerian rhythm inspired tracks. "Say yes", based on a Nigerian hymn, is a perfect example. This track, which features former Destiny Child members Kelly and Beyonce, has quickly risen to fame with the video receiving over 9 million views on YouTube. The catchy, up-tempo song speaks about God being in control and opening doors that may seem to be closed, with lyrics that say: "When Jesus says yes, nobody can say no!" I must admit that I've had moments of listening to this one on repeat a few times! 
In RnB track, "Need your help," Williams sings to God asking Him for direction and guidance. Williams co-wrote this track and has shared that asking God for direction has become a big part of her faith walk. 
I really love "Yes," a song that starts off as a mid tempo ballade and then bursts into an electro dance party. The hook of the song says "put your hands up in the air if you tell Him yes!" It's really fresh and pleasantly unexpected from this songstress. Another song that surprised me is "Everything." This ballad, which has a synth sound, is basically a love song to the Lord with a sound that you don't often hear in the popular Christian music arena. 
Lecrae and Tye Tribebett fans will be pleased to hear "Fall", a collaboration that adds a dollop of hiphop to the album. Of course, Lecrae is on point as always and with Williams' catchy chorus and hook, I really enjoy this one. 
"Fire" is another favorite! I don't think that anything else will best describe this song other than FRESH. The hook and melodies are captivating and Harmony Samuels did an awesome job on the production. 
Ballads "Free", "Beautiful" and "Believe in me" are thoughtfully written, with "Beautiful" being my favorite out of the three. This track is the most memorable and has an RnB flavor to it. I thoroughly enjoy Williams' husky tone on these tracks! 
"Just like you" is a pop anthem and shows promise, but I honestly did not linger on it long enough for it to grow on me. "In the morning" with its electric guitar backing, is a mix of contemporary rock and pop, but again did not really grow on me. I did, however, enjoy "If we had your eyes", Williams' collaboration with singer, Fantasia. This melodic RnB ballade is moving and speaks about God seeing the whole heart as opposed to people who judge by what they see. This song is a heart cry and with Williams' reciting a prayer at the end of the song, has the capacity to minister and heal. 
My final thoughts? This album has the potential to stay in my CD player for a long time! What makes it interesting to me is to hear the heart of someone who has touched fame and has walked the red carpet only to say "I want to do this for You, Lord!" I would definitely call this a Christmas stocking filler and if you are a fan of RnB based Gospel tracks and fresh dance hooks then this one is for your collection too.