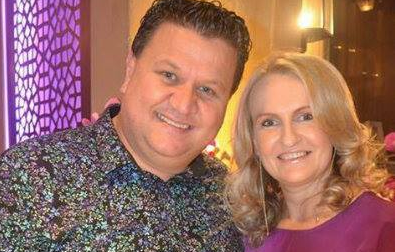 Pastor Danie Slabbert, renowned South African revivalist and pastor of The River Church Cape Town passed away yesterday morning after ministering live at a TBN recording at The River Church East London.
According to Pastors Andre and Jenny Roebert, founders and senior Pastors of The River Church Ministries, hundreds of people had given their lives to the Lord during the live broadcast service minutes before he collapsed in the pastors lounge, suffering from what appears to be a heart attack.
The church leader's wife, Pastor Odette Hayward Slabbert, originally responded by calling together an army of intercessors to pray for her beloved husband's resurrection. However, late this afternoon, Leon du Preez, founder of Encounter Ministries International, announced that after two days of fervent prayer, the family is at peace that 'Dr Danie is in his element, the glory of God, and does not want to come back'.
Du Preez' statement, posted on Facebook, reads: "We would just like to inform everyone that Dr Danie Slabbert passed on to be with the Lord yesterday morning. His family and spiritual sons were praying fervently for two days and experienced a tremendous anointing and presence of God, unlike felt before, but Gods peace entered into the room today and assured his family and loved ones that Dr Danie is in his element, the glory of God, and does not want to come back. He was a father of revival in this nation, and all that knew him, knew that he ran flat out with the torch of fire in one hand and the harvester sickle in the other, and did the work of 10 people at once! He surely received many many rewards in heaven. His legacy and work in this nation and around the world will reverberate and will be carried on through his family, his sons and those he raised up! We would like to thank EVERYONE involved, from prayers, to phone calls, to your love and support, those who flew in and drove in. Your presence was surely felt. We would like to thank you from the bottom of our hearts! This is a time to celebrate the life of one who gave his all for the Kingdom, the Power and the Glory! The information on the celebration/memorial service will be advertised soon. We love u all!"
In a facebook post after landing in East London yesterday, Pastor Odette posted a message on Facebook calling for prayer for her husband's resurrection. Her message reads: "We rule through Christ over death and hell! We need to bind that spirit of death and hell and call Danie back! God does not take his children by attacks… God can protect and resurrect but someone must exercise that authority."
She also urged everyone to continue to pray resurrection prayers as the family and spiritual sons pray over his body in the morgue. Churches, friends and followers united across the country and many committed themselves to pray throughout the night with the hope of raise the pastor back to life. Many supporters left messages of faith on the pastor's Face Book wall declaring life into his body, refusing to accept his death. Friends of the family even asked that messages of condolences and sympathy be ceased and encouraged everyone to rather stand in agreement that he will be raised from the dead.
In an earlier post today, Pastor Odette called on family, friends and colleagues to stand in agreement with a group that was going to  pray at 10am today for Slabbert's resurrection. She also asked for prayer for their daughters, Adonia, and Amarissa, 7, Pastor Danie Slabbert was ordained under Revival Ministries International and received his Honorary Doctorate in Divinity from The River Bible Institute. He came to know the fire of God during a revival meeting with Dr Rodney Howard-Brown at Word of Faith Christian Centre in Port Elizabeth in 1990. Pastor Slabbert was also the Director and Founder of Glory Invasion Ministries based in Cape Town, South Africa.