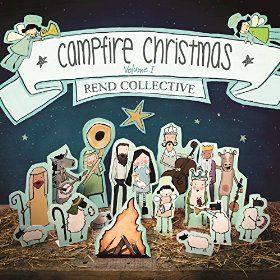 Music Review by Luchae Williams
I am a big fan of Christmas and Christmas music, so I was especially blessed when I received Rend Collective's festive album, Campfire Christmas, Volume 1. As the title suggests, this album has a lot of fun, sing along moments on it and I really enjoyed how they were able to interpret each carol in their own special Rend Collective way. The North Irish Christian folk band, well known for their folk rock worship, has labelled their genre as "experimental" because of the risks they take musically, incorporating uncommon sounds and ideas in to each album they release.  Their passion for the Lord and zeal for worship can be picked up in this Christmas album and it made me appreciate the hearts of these young men and women even more.
Album opener, 'We wish you a merry Christmas', has a really mellow introduction, led by vocals and a strumming guitar – if I close my eyes, I can picture them singing it around a campfire! Mission accomplished. The song picks up pace with the lead instruments and vocalists giving it a solid folksy rock flavour.
The quirky 'Ding Dong Merrily on High' is such a celebratory song! I am amazed at how easily Rend Collective is able to take a Christmas classic and turn it into a display of unpretentious praise.  The same can be said for other Christmas classics, such as 'Hark! The herald angels sing' and 'Joy to the world', with the latter being my favourite! I was immediately taken by this blue grass-indie-rock infused song when I heard the opening lines "You're my joy, joy, joy!"
I've always been a big fan of the Christmas staple 'O come all ye faithful.' As a worship leader, I love that the lyric of the song invites believers to come and behold King Jesus, God's gift to us! Rend Collective have added another level to this beautiful hymn, with simple guitar elements, bells and really beautiful, harmonic vocals that give the song even more depth.
The same can be said for the ukulele driven 'Oh Holy Night', which becomes more than "just another Christmas carol', as the band turns it into a moment of worship. It builds into a really beautiful bridge that says "Oh night divine/Oh night divine/When love arrived/Oh Holy night!" The wordy hymn 'Joyful, joyful, We adore Thee' is also given new life on the album and I especially enjoyed the beautiful string quartet and the excellence in their vocals as they dipped and soared to share with us a new perspective on this classic.
The album closer is an original song titled, 'For all that You have done.' This track is a spin-off of the traditional holiday song, 'Auld Lang Syne', in that Rend Collective took the melody and turned it into a song that glorifies God. The vocals are accompanied by what sounds like Irish bag pipes, which I found to be really refreshing! My heart really resonated with its chorus that says "For all that You have done for us/For every battle won/We'll raise a song to bless Your heart/For all that you have done!" I find it to be such a poignant reminder, as the year draws to the close, that God is still on the throne and He is faithful in every season.
Campfire Christmas showed me that these are more than just carols. They are intimate, story telling, praise and worship songs that speak about the birth of our Saviour.  If you are looking for a Christmas album that is unique, fun and inspiring, I highly recommend this one!
[notice]Big Christmas Giveaway: Gateway News is giving away a book and a CD to 1 blessed reader! To enter, LIKE the Gateway News Facebook page and SHARE our specially marked "Big Christmas Giveaway" Facebook post, commenting the name of the last track on this Rend Collective album.
Winner will be announced Wednesday, December 16. Keep your eyes peeled next week for our final Big Christmas Giveaway![/notice]