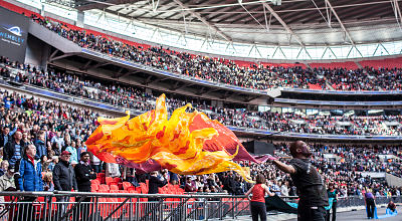 Originally published in Charisma News
After a summer of sport—including the Olympics and Paralympics—Great Britain's capital hosted a prayer event on a similarly grand scale at its most famous soccer stadium, Wembley, on Saturday.
Officially sanctioned by London Mayor Boris Johnson, the National Day of Prayer and Worship (NDOP) drew 32,000 people from various church and racial backgrounds. Organizers claimed tens of thousands more were able to join in via TV, radio and Web.
A fast-moving program featured stories from mission initiatives such as "Hope" and "More Than Gold," which focused on Queen Elizabeth II's Diamond Jubilee and the Olympics respectively. More Than Gold Chief Jon Burns said churches had "stepped up and served their communities like never before."
Prayer for forgiveness, revival
There was prayer for forgiveness and revival. Musicians leading the crowd in song included—Sound of Wales, Noel Robinson, Matt Redman, Dave Bilbrough, Graham Kendrick, Lara Martin, Noel Richards and Godfrey Birtill. More than 1,000 Christian leaders gathered for a lunch reception.
The organizers hope Wembley 2012 will be a catalyst to help regional gatherings of prayer emerge. The day was the result of church collaboration across the capital, part of a global prayer network that started in South Africa at the turn of the Millennium.
"It was a wonderful day," Dave Bilbrough said of the Wembley event. "To see such a vast array of people uniting together from across our country—and along with others, to have the privilege of leading them in expressions of worship—was a humbling experience that will stay with me for a long time."
Among those attending was Steve Legg, editor of the men's magazine Sorted. "Devoting a whole day to prayer and singing doesn't normally fill me with great excitement," he admitted, "but I was blown away by this! There was something very powerful about uniting with 32,000 Christians."
Legg said the highlight was seeing hundreds of teenagers in red hoodies around the pitch as the stadium prayed for the country's youth. His magazine has focused on prayer—with the story of how people worldwide interceded for soccer player Fabrice Muamba after he suffered a cardiac arrest.
"Who would've thought prayer would be on the lips of your ordinary blokey football fan, player and manager—but it was," Legg said of the previous response to Muamba's crisis. "I can't ever remember a moment like that—with banners, shirts and scarves proclaiming 'pray for Muamba.' It got men thinking."
Writer Claire Musters, part of the Newfrontiers network of charismatic churches, was also among the Wembley delegates. She was particularly impressed by Bishop Michael Nazir-Ali, who spoke at the leaders' lunch about what it means to be a Christian in the public eye.
"He said that what struck him when he first came to England was the 'invisibility of the Church,'" said Musters. "He challenged us to think about what would happen if our churches wanted to be light in our communities."
She had feedback about the prayer event from church friends. "They found the stop-start approach difficult," said Musters. "No worship leader did more than one song at a time, so there wasn't a chance to 'get into' a time of worship and move into prayer from that."
However, it was "eye opening" to gather with Christians from different backgrounds: "That's the wonderful, unifying element. So I was saddened when I left the stadium, to be met by two guys standing on boxes shouting that what had been happening in the stadium wasn't of God because there were Catholics in there."
But the unity she enjoyed inside the venue was praised by others—including London's mayor. In a video message before the event, Boris Johnson thanked Christians for praying for the Olympics and Paralympics. "Did those prayers work," he asked, "were they answered? You bet they were!"
Said Johnson, "The Olympic and Paralympic Games teach us that when people work together for the common good in London, when they believe in something together, when they care about each other and about the city and what it's achieving, then incredible things can happen."