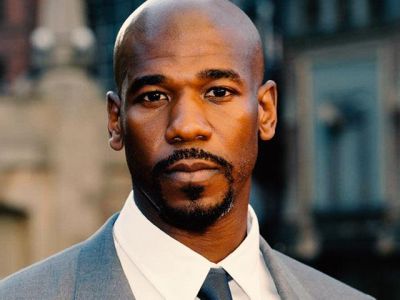 By  Efrem Graham — Originally published in CBN News
Worldwide box office numbers for Transformers: The Last Knight are climbing to more than $600-million (R8.7-billion). The film's popularity is helping to make actor Remi Adeleke a household name, along with his personal transformation story.
In an interview with The Gospel Herald, Adeleke said: "I try to be a light wherever I go. I try to be aware that I carry the presence of God with me. Whatever's going on around me, I walk in obedience to God; I try to be obedient and stay in prayer and the Word of God. No matter what your situation, no matter what obstacles you face, trust God."
Filmmaker Michael Bay's casting of Adeleke in the latest instalment of the Transformers franchise is a breakout role for the former Navy Seal, who recently shared his powerful faith journey in a compelling I Am Second White Chair Film.
It was Bay's 1995 film, Bad Boys that attracted Adeleke to the Navy's elite team. In fact, Adeleke credits God and the work of the filmmaker with helping to radically change his life.
Remi lived a privileged life in West Africa until the age of five when his father died and the Nigerian government seized his family's assets; that loss eventually forced him and his mom to flee to New York City.
Life was not easy.
Remi recalled: "Ever since I was young I always wanted to control things. When I would want something – if I had to, I would run through walls to get it…It's hard for me to trust people…It's hard for me to trust something outside of myself."
Remi fell in with the wrong crowd.
"Living in the Bronx in the 90s, I got involved in some pretty bad activities," he told The Gospel Herald.
"I was stealing from jobs, running scams, selling drugs, hanging out with a rough crowd. By the time I was 19, I had a ton of money from the stuff I was doing. I had it all in my eyes."
He spent years with no direction, until he felt that he heard the voice of God telling him to join the military. He also remembered the elite team he watched in Bay's film.
He joined the Navy and became a Seal. That's an honor only about 15-20% of trainees achieve.
In his 13 years on active duty, Remi found his faith and eventually became a youth pastor and motivational speaker.
"When God starts something, He's been faithful to complete it – no matter what obstacles I've faced," Remi said.
"Throughout my life, God has shown He had a plan, and His plan is way better than my plan. God may not give us what we want all the time, but He will always give us what we need."
Remi's new acting career is another God-inspired path. It has also united him with filmmaker Michael Bay, whose work he admired from a distance more than 20 years ago.
Beyond his big screen work, Remi is a husband, father of two, and a passionate follower of Christ.