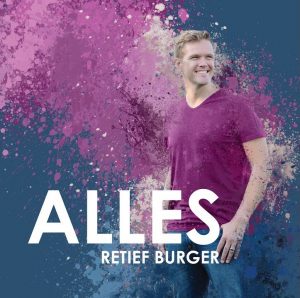 Retief Burger, renowned Afrikaans Christian singer, just released his latest album titled – Alles. He is excited about sharing the new worship music with the Christian community.
The album was recorded during a live performance with an audience of about 500 people. Burger, the leading pastor of the Every Nation church in Lynwood, Pretoria, is still passionate about writing and recording worship music after years in the music industry.
"My aim is to make music that empowers churches to earnestly worship God," he says.
The Bible says: "Whether you eat or drink or whatever you do, do it all for the glory of God." — 1 Corinthians 10:31 NIV
Burger takes this message to heart. "God first reached out to us, to restore His relationship with us through His love and grace. He gave us His all, and we should do the same!"
This is also the theme of his life. "I want to glorify God with everything I do, a total surrender."
Although Burger is a full-time pastor, he feels that recording music is a conviction from God. "Until He wants me to stop, I will continue to do this."
The new album is available at Musica andCum Books and on iTunes. There are also lyric videos and music videos of his songs available on YouTube.
To find out more about Retief Burger and his new album go to:
What worship is all about
Burger believes he is a worshipper in being. "Worship is not just the couple of minutes we spend singing songs in church or in our car. We should glorify God, worship Him, with everything we do –in the way we treat people, how we do business, or when we spend time with our family."
He says the new songs on the album focus on God's glory, holiness and majesty. "It was such an uplifting experience of finding new words to describe God's greatness."
He also made sure the songs on the album were easy to learn, could be played by smaller church bands and sung in churches all over the country. The songs are written to explore who God is, His greatness and His power, and also how He relates to us.
Culture
Burger leads a multicultural church, which in the country's eyes, should not be an easy task, as racial tension is once again in the spotlight. He believes racial differences can be set aside through true worship and discipleship of believers. "I have seen the hearts of congregation members change as they accept Christ. It is such a beautiful thing to see."
He says when a person hears the gospel, and truly accepts Jesus by surrendering fully to Him, the believer is not only reconciled with God, but also with everyone else. "The gospel demands forgiveness and it enables a believer to extend grace and forgiveness to other racial groups."
Burger says when you become a believer you get a new set of values. "You then find your identity in Christ first and all the other aspects of your life — like your cultural background — become secondary."
With a Christ-centered mindset it is possible to have constructive dialogues with different racial groups to better understand each other's different ways of living. "There are opportunities in our church to have these discussions," he says.
As one of the lyrics on Alles says: "There is nothing more powerful than love."
"If we as believers are willing to repent, forgive and understand, racism has no place in our hearts and in our lives. We are compelled by God's word, and his heart, to then love the ones we hated before," says Burger.