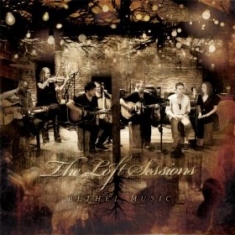 Music review by Shelley Wasserman
LOFT SESSIONS — Bethel Church
Loft Sessions is really a beautiful CD. The title, obviously, is not for nothing as it really was recorded in a refurbished loft. But I believe that is not the only reason for the title. The artists gathered family and friends together and recorded what is truly a wonderful and intimate worship album.  I like the metaphor that comes from being in a loft — a loft is a place in which one finds solitude; a safe place, a space to just be; a place of sincerity. But is also the place we see in movies where lovers meet for romantic dinner dates or a place to get away from the rest of the world. So too, this CD creates the atmosphere of a place where we can leave everything else behind,  a safe place, a place of stillness of the heart, a place of 'here I am, I've come to meet with You' and where the invite of our heart is met with His. It is a CD that allows the setting for lovers to meet — us and Jesus.
The CD features original songs written by Brian and Jenn Johnson, Jeremy Riddle, Christa Black, Matt Stinton, Joel Taylor, John Hendrickson, Hunter Thompson, Steffany Frizzell and William Matthews.  Most of them perform their own songs. The CD has quite a warm, unique sound and is different to any of the other CDs Bethel have produced.  It has a very acoustic feel to it and has some beautiful melodies that one can get lost in.
The CD starts off with Brian Johnson leading the song he co-wrote "One Thing Remains" which is different to the other version I know of this song.  We sing this song at my local church and it really is a powerful song with such truth in the words: "Your Love never fails, it never gives up, it never runs out on me."
"My Dear" features Hunter Thompson and is a vocally driven and upbeat song that paints a picture of utter romance between the Bride and Jesus: "I am Yours and You are mine, I am ravished by the sight of one glimpse into Your eyes, My Lover's coming for His Bride…You're everything I've ever wanted, everything I've ever needed, You've ravished my heart."
"You Have Won Me" led by Brian Johnson, is definitely one of my favourites on this CD. I love every lyric used, particularly the chorus: "Jesus You have won me…You are worthy of glory and praise."
Jenn Johnson beautifully sings "Come To Me" which is a love song sung over us from God's heart toward us. It's a song I easily am able to get lost in and just enjoy His presence, and I would have to say is my ultimate favourite on the CD.  Even now, just listening to it again I find myself lost in it again, but with words like this, it's a given: "I am the Lord your God, I go before you now, I stand beside you. I'm all around you, though you feel I'm far away, I'm closer than your breath, I am with you, more than you know. I am the Lord your peace, no evil will conquer you, steady now your heart and mind, come into My rest…Come to Me, I'm all you need…I'm everything..I'm all you need…I'm your everything…" It really is a moving song!
"Walk in the Promise" sung by Jeremy Riddle has an incredible sound all round…vocally and musically evoking me to 'lift Him up' with everything inside of me.  We all know how powerful music can be and how it really touches the chords in the heart of the listener.  This is one of those songs for me …it is a stunningly put together song with words that convey our desperation to lift Him up, and to walk out our faith as we wait for Him.
Steffany Frizzell leads the next song "You Know Me" with a voice that is mesmerizing.  This is just a precious song that finds its lyrics from Psalm 139. The song's style reminds me of some of Barlow Girls slower songs.  Vocals, keys and stringed instruments come to the fore with this song in a sound that is unbelievably intimate.  What an unbelievable truth it is that God, the creator of the universe, would know us…"Nothing is hidden from Your sight, wherever I go You find me, You know every detail of my life, cause You are God and You don't miss a thing."
"Angels" led by Brian Johnson is a short song that is an invite to the angels to come sing with us and lift Him up.
"Fall Afresh" is led by Jeremy Riddle whose vocals are once again incredible and complements those who seek the Spirit to fall upon them: "Spirit of the Living God come fall afresh on me, Come wake me from my sleep,
Blow through the caverns of my soul, Pour in me to overflow,  to overflow."
This is followed by another song led by Jeremy: "Draw Near" which is another winner.  It is an invite to draw near to each other and is probably the song that I think encapsulates the whole idea, feel and sound of this album. I love the words in the song: "I have made a place for You here, so come on, come on. All things are possible here, so come on, come on."
"This is What You Do" led by Matt Stinton is a light, upbeat song that talks of what He does…"How He makes me come alive".
If you enjoy Jesus Culture and the likes of United Pursuit etc, you will enjoy this CD.  The songs are catchy and really allow for intimate worship with the King. I honestly enjoyed this CD and would recommend it to anyone.
Take a look at the album from Bethel's website: www.bethelmusic.com/theloftsessions/