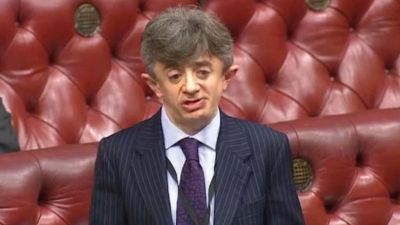 Originally published in The Christian Institute
Conservative Peer Lord Shinkwin has hit out at Britain's abortion laws, which he describes as a "licence to kill for the crime of being disabled".
In an article for The House magazine, Lord Shinkwin warned that the number of disabled babies being aborted increased by 68 per cent between 2005 and 2015.
And he highlighted that 90 per cent of babies diagnosed with Down's syndrome are killed in the womb.
The law
In Britain, abortions take place before 24 weeks but disabled children can be aborted up to birth.
Lord Shinkwin, who is himself disabled, believes this distinction in the law means people like him are discriminated against.
He says the medical establishment treats disability "as a tragedy to be eradicated through abortion".
'Deeply disturbing'
"There's something deeply disturbing about non-disabled politicians spouting equality and then in the same breath defending a law which is being used as a licence to kill for the crime of being disabled.
"I ask what message it sends if, after birth, I'm good enough for the House of Lords but, before birth, I'm only good enough for the incinerator.
"Too many in the medical establishment still view congenital disability as a tragedy to be eradicated through abortion."
Legislation
Lord Shinkwin, who was born with the brittle bone disease Osteogenesis imperfecta, tabled a Bill which would see all abortions banned after 24 weeks.
The Abortion (Disability Equality) Bill reached report stage in the Lords but will not progress any further.
Earlier this year, Baroness Campbell of Surbiton, who has a degenerative genetic disease, warned of the negative perception society has of disability as she spoke against assisted suicide.
'Fear'
The Baroness spoke of a societal "fear" that severe disability "is a state worse than death".
Criticising assited suicide, she added: "We already have to fight to live; a right to die would be a huge and frightening burden".