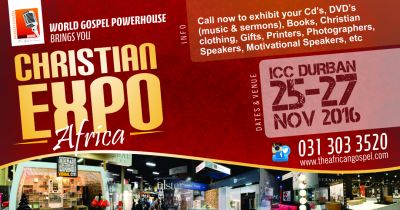 CLICK ON IMAGE FOR ENLARGEMENT
There is only ONE venue where the Christian community and the Gospel Music industry gather in South Africa, every November – and that is the ICC Durban, for the SABC Crown Gospel Music Awards. Now imagine so many believers coming from various churches, and groups in one place – what a perfect platform to market and sell your products or services to a captive audience!
25th to 27th November 2016
The World Gospel PowerHouse , producers of the CROWN and Trumpet Gospel Music Awards are proud to announce the first CHRISTIAN EXPO AFRICA which will be held from the 25th to the 27th at the ICC Durban. "We are inviting Pastors who have their sermon DVDs, artists with CDs, authors, sound people, photographers, caterers, printers, clothing manufacturers or designers, car dealers and any business that appeals to the Christian and Gospel Community. This is a chance to display your product, speak face to face with your potential customers and get excellent referrals. What is more, the expo will take place even on the 27th of November, when all the Gospel Music lovers are at the ICC for the CROWN Awards"
There will be various CHRISTIAN television programmes on site, various radio stations, Blood donor services, live screening of Christian Movies and much more.
People who want to come and see the exhibition, are welcome from Friday the 25th to Sunday the 27th . It will be FREE to enter.
To exhibit, download the form on www.theafricangospel.com or call the World Gospel PowerHouse +27 31 303 3520  or email prince@mirrorpr.co.za