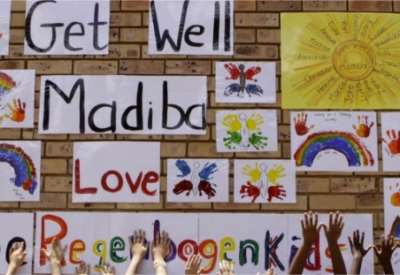 Originally published in Christian Today
Christians are praying for former South African President Nelson Mandela as he recovers at home following surgery for an abdominal complaint.
The 93-year-old was discharged from hospital on Sunday following an overnight stay to uncover the cause of the discomfort.
Officials said Mandela was resting with family at his home in the Houghton area of Johannesburg.
His release from hospital will be a great relief to millions of South Africans who continue to adore the man who led the nation out of the dark years of apartheid.
The South African Council of Churches said it was praying for Mandela's recovery.
"[The SACC] wishes the former President Nelson Mandela a speedy and full recovery," the organisation tweeted.
Mandela was remembered by worshippers at the Regina Mundi church in Soweto during Sunday Mass.
The church that was a frequent gathering place for members of the anti-apartheid movement and a prominent stained glass window bears his image. Mandela was to later speak at the church in 1997, seven years after his release from prison.
Tom Nakeni was at the church on Sunday to pray for Mandela's quick recovery.
He told the BBC: "We need him … the world needs him."