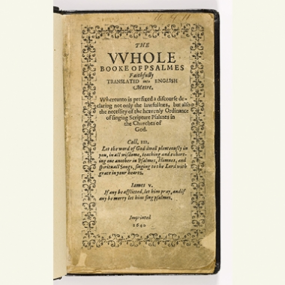 Originally published in Christian Today
A book of Psalms printed in 1640 sold this week for just under $14.2 million (R145m) on Tuesday, making it the most expensive printed book ever.
It is believed to be the first book ever printed in what is now the United States just 20 years after the Pilgrims landed at Plymouth Rock.
The book is meant to be a faithful translation into English of the original Hebrew psalms and was auctioned at Sotheby's in Manhattan after being put up for sale by Boston's Old South Church.
The historic church was the location of Benjamin Franklin's baptism in addition to meetings that led to the formation of the Boston Tea Party.
The church decided to sell the incredibly rare Bay Psalm Book in order to raise funds for its ministries.
The Bay Psalm Book takes its name from its publication in Cambridge by the Puritan leaders of the Massachusetts May Colony.
Out of an original 1,700, only 11 copies remain today, another of which is still owned by Old South Church.
Reverend Nancy Taylor, senior minister of the church, said the book was "arguably one of the most important in this nation's history".
She has also said the sale of the book is "life-changing" for the church, as it will now be able to afford to expand its ministry.
The book was bought by American businessman and philanthropist David Rubenstein, who plans to put it out on loan to libraries around the US.
The highest price ever paid at auction for a book was $30.8 million for Leonardo da Vinci's Codex Hammer, a personal, handwritten notebook sold in 1994.